World's Best Coach in Women's Handball 2018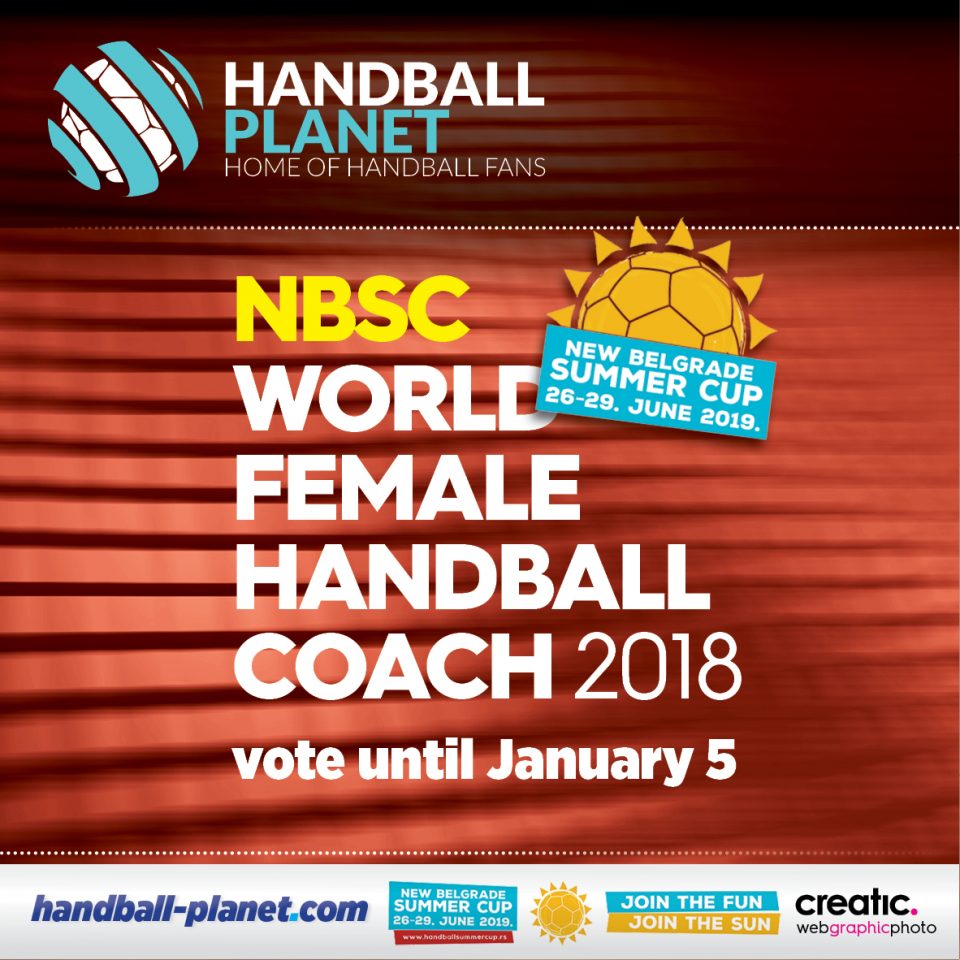 The eighth year in a row, Handball-Planet.com organizes the Contest for the WORLD BEST COACH in Women's Handball 2018 powered by New Belgrade Summer Cup! Voting process of the traditional December competition is based on opinion of 13 handball journalists from all over the world (13 countries). Handball-Planet.com Jury of handball Experts from two continents made the list of FIVE best coaches in Women's Handball who will compete for the title of NBSC WORLD BEST COACH in Women's Handball 2018.
The last member of Jury are Handball-Planet.com visitors, who can support their favourite coach by joining the Polls until January 5. It is important to be remembered that votes of handball fans across the globe will be added to existing number of points given by the journalist's jury.
Journalists and fans will together announce the best at the end of the voting process.
VOTE UNTIL JANUARY 5
JURY MEMBERS:
Jozsef Simon (Nemzeti Sport, Hungary)
Michal Pomorski (handball.pl, Poland)
Jorge Dargel (MARCA, Spain)
Amina Idrizi (24rakomet.mk, Macedonia)
Ibolya Szekeres (Time Out Mag, Norway)
Laura Agena (Handball-Planet.com, Argentina)
Jasmin Tajic (Oslobodjenje, Bosnia and Herzegovina)
Života Bogdanović (Handball-Planet.com, Serbia)
Nagore Odriozola (Revista Líderas, Spain)
Stig Nygard (TV 2, Norway)
Igor Grachov (xsport.ua, Ukraine)
Lars Bruun-Mortensen (TV 2, Denmark)
JURY MEMBERS FROM EUROPE AND SOUTH AMERICA
Our goal that handball world gets a public and fair contest for the World best players of the year, since 2010 received a big support from the parts of handball globe. WORLD HANDBALL PLAYER 2018 Jury is consisted of the people with their names and CV's with the clear aim to get opinion from different countries, continents, handball schools and traditions. Our Jury members are famous handball specialists in their countries, which coming from the biggest media (Marca, TV 2 NO, etc), but also from specialized websites and newspapers as timeout.org, Balkan-Handball.com, rushandball.ru, rakomet24, handball.pl…
WINNERS
Thorir Hergeirsson – 2011
Karl Erik Bohn – 2012
Ambros Martin – 2013 and 2017
Dragan Adžić – 2014 and 2015
Yevgenii Trefilov (2016)
WORLD HANDBALL PLAYER 2018 – PARTNERS
CREATIC – https://creatic.hu/

MASTERS HANDBALL WORLD CUP 2018 – mhworldcup.com