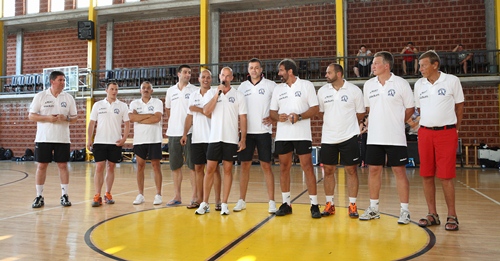 Last month in one of the most beautiful summer resort at Adriatic Coast, Budva (Montenegro) was organised Youth Handball Camp Z23 with a impressive lists of TOP coaches and guests. This was the first time that these kind of Handball event was organised in Montenegro on the highest level. Behind of all was still active player, Montenegro NT right back, Zoran Roganovic who is playing in Swedish Lund:
– Everything past in very nice atmosphere. Over 70 kids from Sweden, Montenegro and Serbia had oportunity to work with some of the TOP handball coaches as Veselin Vujovic, Pero Milosevic, Bengt Johanson, Ratko Djurkovic and others. I am very satisfied, because children left Budva with a smile and that is the most important thing after all. I am sure that they will back next year and take some of their handball friends with them. Next edition it will be even better – says Roganovic.
– I am thankfull to all my friends, colleagues and coaches who joined the Camp. Kids from Serbia and Montenegro know all the beauties of our Coast, but for the Swedish children that was surprise. Many of them stayed after the Camp with their parents. It was pleasure to help them to find accomodation. Swedish people fall in love with Montenegro. We organised a few excursions outside of Budva, so they really enjoyed. Many of them will come back with their teams next year – has no doubt the main organiser:
– I spent some extra days in Budva after the Camp has finished to fix everything for the next year. Camp Z23 will work in two shifts, starting from 15th of June 2013.
Photo galleries from the Z23 Camp you can find on the Official FB PAGE