Atypical handball goalie – gunner Christoforos Nungovitch!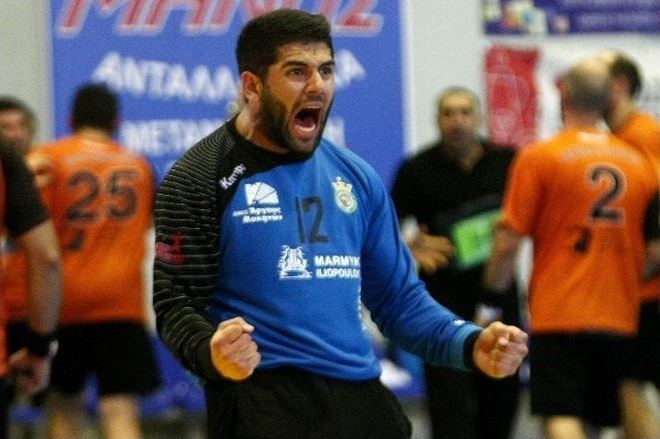 Christoforos Nungovitch is an unusual goalkeeper, because he combines saves and scoring. Nungovitch, 25, is goalie of the Greek champions Diomidis and the national team of Cyprus. He scored 18 goals in the domestic Championship in the last two months with addition of four goals in the Cup competition. Specially, in two games, against PAOK and Drama 1986, Nungovitch scored 11 goals with 7-meter throws – 100% success:
"I like very much scoring, also crowd like this, because is unusual. I start playing handball as line player, so I know the way – says Christoforos about his achievement.
Diomidis are the leader of the Greek championship with four points ahead of PAOK.
STANDINGS:
| | | | | | | | | |
| --- | --- | --- | --- | --- | --- | --- | --- | --- |
| 1. | Diomidis Argous | 18 | 17 | 1 | 0 | 480:348 | 35 | |
| 2. | PAOK | 18 | 15 | 1 | 2 | 496:408 | 31 | |
| 3. | AEK Athens | 18 | 12 | 2 | 4 | 451:414 | 26 | |
| 4. | Filippos Beroias | 18 | 11 | 1 | 6 | 476:442 | 23 | |
| 5. | Anagennisi Vyrona | 18 | 8 | 2 | 8 | 401:404 | 18 | |
| 6. | Loutraki | 18 | 7 | 2 | 9 | 427:419 | 16 | |
| 7. | Dikeas | 18 | 7 | 2 | 9 | 420:431 | 16 | |
| 8. | A.S.E. Douka | 18 | 7 | 1 | 10 | 410:437 | 15 | |
| 9. | Foivos | 18 | 7 | 0 | 11 | 419:437 | 14 | |
| 10. | H.A.N.TH | 18 | 6 | 0 | 12 | 418:462 | 12 | |
| 11. | Kilkis | 18 | 4 | 2 | 12 | 419:477 | 10 | |
| 12. | Drama | 18 | 0 | 0 | 18 | 403:541 | 0 | |