FIRST SG FLENSBURG DEFEAT: Robert Weber match winner in Magdeburg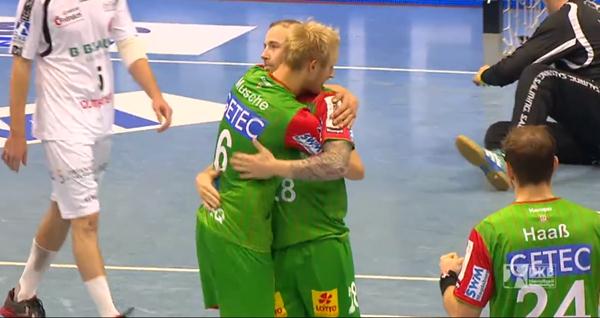 SG Flensburg Handewitt suffered the first season defeat! Robert Weber was a match winner of derby match in GETEC Arena, where 6.600 fans witnessed an interesting match in which domestic SC Magdeburg celebrated 24:23 win.
This was a chance for THW Kiel to come closer to the leaders by beating Eulen Ludwigshafen 37:21, while Rhein Neckar Lowen obviosly gave up from the Championship race with another defeat, this time in Gummersbach 28:23.
SC Magdeburg – SG Flensburg-Handewitt 24:23 (11:12)
SC Magdeburg: Green (14/2 saves) – Chrapkowski (1), Bezjak (3), Weber (3/1), Musche (5/3), Damgaard (7), O´Sullivan, Musa (2), Lagergren (3)
SG Flensburg-Handewitt: Buric (14/1 saves), Bergerud () – Karlsson, Hald (4), Glandorf, Svan (7), Wanne, Jeppsson, Jøndal (6/1), Steinhauser, Zachariassen, Johannessen (1), Gottfridsson (2), Lauge (2), Rød (1)
THW Kiel: N. Landin (1.-60., 20/1 saves), Wolff (n.e.); Duvnjak (3), Reinkind (1), M. Landin (n.e.), Weinhold (5), Wiencek (6), Ekberg (15/6), Rahmel (n.e.), Dahmke (4), Zarabec, Bilyk (1), Pekeler (1); Trainer: Gislason
Eulen Ludwigshafen: Lenz (n.e.), Hanemann (1.-60., 5 saves, 1 goal); Stüber (3), Salger (2), Dietrich (1), Scholz (1), Spiler, Haider, Remmlinger, Falk (4), Hofmann, Durak (1/1), Bührer (2), Müller (3), Dippe (3), Valiullin (1); Trainer: Matschke
VfL Gummersbach – Rhein-Neckar Löwen 28:23 (13:11)
Gummersbach: Lichtlein, Puhle – Baumgärtner, Zhukov (2), Preuss (2), Becker, Pouya (5), Martinovic (8), Schröter (1), Köpp (6), Herzig, Dayan, Busch, Xhafolli, Sommer (4/1), Bialowas
Löwen: Palicka (ab 31.), Appelgren – Schmid (5/1), Lipovina, Radivojevic (3), Tollbring (4), Abutovic, Mensah (3), Fäth, Groetzki, Taleski (2), Guardiola, Petersson (5), Kohlbacher, Kessler, Ahouansou
STANDING:
| | | | | | | | | |
| --- | --- | --- | --- | --- | --- | --- | --- | --- |
| 1. | Flensburg-H. | 25 | 24 | 0 | 1 | 718:575 | 48 | |
| 2. | Kiel | 26 | 23 | 0 | 3 | 776:620 | 46 | |
| 3. | SC Magdeburg | 26 | 21 | 0 | 5 | 789:669 | 42 | |
| 4. | Rhein-Neckar | 25 | 19 | 2 | 4 | 701:612 | 40 | |
| 5. | MT Melsungen | 25 | 16 | 0 | 9 | 690:674 | 32 | |
| 6. | Fuchse Berlin | 26 | 15 | 0 | 11 | 697:674 | 30 | |
| 7. | Bergischer | 25 | 13 | 1 | 11 | 651:642 | 27 | |
| 8. | Goppingen | 25 | 13 | 1 | 11 | 671:669 | 27 | |
| 9. | Erlangen | 25 | 10 | 2 | 13 | 629:643 | 22 | |
| 10. | Lemgo | 25 | 9 | 3 | 13 | 633:640 | 21 | |
| 11. | Hannover-Burgdorf | 25 | 10 | 1 | 14 | 693:708 | 21 | |
| 12. | Minden | 25 | 10 | 0 | 15 | 706:714 | 20 | |
| 13. | Stuttgart | 25 | 9 | 2 | 14 | 673:741 | 20 | |
| 14. | HSG Wetzlar | 25 | 9 | 0 | 16 | 626:656 | 18 | |
| 15. | Leipzig | 26 | 7 | 2 | 17 | 647:663 | 16 | |
| 16. | Gummersbach | 26 | 5 | 1 | 20 | 621:749 | 11 | |
| 17. | Bietigheim-Metterzimmern | 25 | 4 | 0 | 21 | 598:744 | 8 | |
| 18. | Ludwigshafen | 26 | 2 | 3 | 21 | 609:735 | 7 | |