First win of Kadetten Schaffhausen after almost a year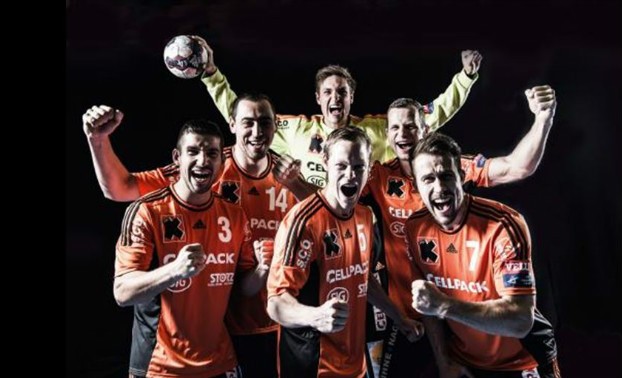 Kadetten Schaffhausen won in EHF Champions League after almost a year (Baia Mare 24:23 on December 3, 2015)! Team of Danish coach Lars Walther finally found the way to outplay some of the rivals from the strong Group A – Orlen Wisla Plock 27:25 (12:14) with Hungarian playmaker Gabor Csaszar in the main role with eight goals.
"I am very happy tonight and proud of my team. Everybody was going to the limit. And we saw that it is much easier to be an excellent goalkeeper with a good defense. Today we saw good teamwork.", said Kadetten's coach Lars Walther after first win in the season.
Kadetten Schaffhausen – Orlen Wisła Płock 27:25 (12:14)
Kadetten: Bringolf, Stokholm – Meister 1, Delhees 4, Liniger, Kuettel, Graubner 1, Pendić 4/1, Szyba, Csaszar 8/1, Alili, Marković, Maros 1, Koch 2, Muggli 2, Tominec 3.
Orlen Wisła: Corrales 1, Morawski – Daszek 1, Duarte 4, Wiśniewski, Ghionea 3, Rocha 2, T. Gębala 1, Ivić 2, Tarabochia 4, M. Gębala 1, Pusica, Mihić 1, De Toledo, Żytnikow 5.
STANDINGS:
1. FC Barcelona Lassa
7
6
0
1
199
:
179
(20)
12
1.

Paris Saint-Germain Handba…

7
6
0
1
220
:
189
(31)
12
3. SG Flensburg-Handewitt
8
4
1
3
204
:
192
(12)
9
4. Telekom Veszprém
7
3
2
2
186
:
183
(3)
8
4. THW Kiel
8
4
0
4
202
:
207
(-5)
8
6. Orlen Wisla Plock
8
2
1
5
207
:
219
(-12)
5
7. Bjerringbro-Silkeborg
7
2
0
5
184
:
194
(-10)
4
8. Kadetten Schaffhausen
8
1
0
7
210
:
249
(-39)
2