One of the biggest handball summer event in Europe and certainly, the biggest handball festival in Hungary – CELL Cup will open the door for the 20th year in a row for all global handball community. The tournament with a huge tradition will be held from August 7 to August 13 in the center of Hungarian handball and one of the most popular handball cities on world map – Veszprem.
-This is the tournament where everybody wins and nobody looses. The Cell-Cup is one of the biggest handball tournament of Europe and the biggest one of Hungary. Our festival take place in Veszprém. This beautiful city is the home of the world-famous MVM-Veszprém handball team too. In 2016 we celebrate the 20th jubilee of the event. – says Nandor Sule, ahead of organizing team, and adds:
– All of the games are only in indoor sport halls with international refereeing. During the 5 game days the teams play more than 600 matches on 12 handball field. We provide quality accommodation with full board in 4 categories from the hostels to the 4 star hotels. Tournament will be held in five men's and women's categories from U12 to the juniors and adults.
High numbers showing progress year by year…
From year to year more and more teams arrive to us. For example last year 163 teams decided near of our tournament. Veszprém and it's environment have many free time activities from the adventure parks to the famous ZOO. Furthermore the most attractive destination the Lake Balaton is only 15 km far from the city. There is nothing better to bath in the lake after a hard and hot gameday.
Cell-Cup has a impressive history…
-Exactly 19 years ago we decided that we want more than a simple tournament. We want a big international event where thousands of handball players can meet, improve and learn from eachother and know better eachothers culture and handball style. We had many national team players from all around the world who has participated on the Cell-Cup during his childhood.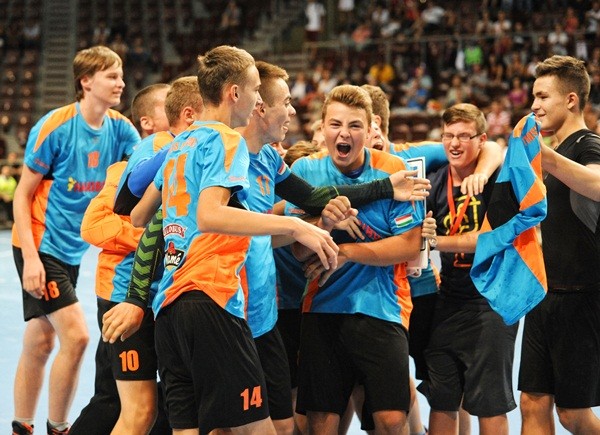 Handball festival in Veszprem has a strong international background…
-We had more then 2000 teams from more than 50 countries.
Why is it more than a simple tournament? Why do you call it festival?
-The Cell-Cup always has a special feeling. We give many unforgettable experiences for the participants. We start with an amusing opening show in the Veszprém Aréna. After that from day to day we give special parties for the players and VIP programs for the trainers and coaches. The festival ends by cloosing ceremony where we reward every teams.
Vision, how the Cell-Cup has to look like in near future,, exists…
-First of all we getting ready for the20th jubile. We would like to present a big Bang and give a real unique and unforgettable handball experience! We are ready for a new record! And you – concluded Nandor Sule.
For more infos visit official Cell-Cup website: www.cellcup.hu