SPANISH JOY IN KRAKOW: The Hispanos in the final after 10 years!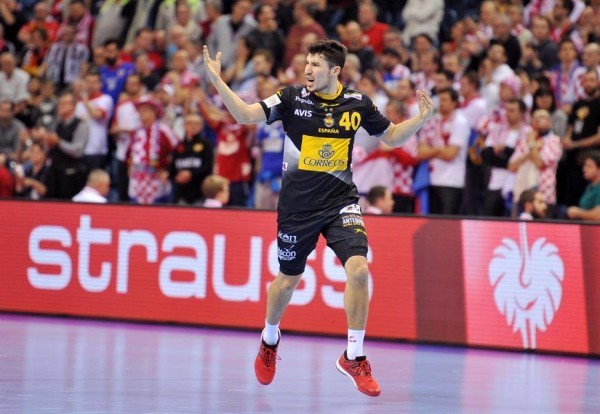 Photo credit: ehf-euro.com
After a shaky start, Spain took a 33-29 victory against Croatia in the Tauron Arena in Krakow and made it into the final of the EHF Euro after 10 years.
It was Croatia that started off better on the match, a quick 1-4 forced Manolo Cadenas to call the first time out after only four minutes. The team did not respond in attack and the defence was just too flat and still on the six meter line. The balkans were dominating in attack and with the help of some good saves from Alilovic, the three goal difference was extended until the 20th minute.
Cadenas made some changes on Spain's line-up and the team reacted just on time. Gonzalo Perez de Vargas made some saves and Cristian Ugalde ran the fast breaks to tie the match 13-13 in 22 minutes. With a superb performance from Barcelona's centre back, Raúl Entrerríos, the Spaniards went from -3 to +4 at the end of the first 30 minutes (18-14).
Things looked good for the Iberic team as they maintained the four goal lead. The ever fighting Croatian team struggled to shorten the gap and after 15 minutes of the second half, they managed to be only one goal down (24-23). Horvat's goals via fast break and Sliskovic's power shots helped Babic's team to be back on tracks. With 8 minutes left on the clock, the one goal difference remained, but some technical mistakes in key moments made them lose their chance to go up in the scoreboard.
Two fast breaks in less than 30 seconds from Victor Tomas set a four goal difference with only 6 minutes left to be played (31-28). From then on, Croatia's defence stepped out and tried to suffocate Spain's attack, but it only gave the Spaniards more space to run and extend the lead. Perez de Vargas shut down the goal with two spectacular saves from 7 meter line (the last one, a double save after a rebound) and Spain took a 33-29 victory that put them in the final, where Germany awaits.
Antonio García was named MVP of the match, where he finished with 6 goals and 3 assists. Valero Rivera and Ivan Slišković also finished with 6 goals each.
Photo credit: ehf-euro.com