For many of the stars players around the world of handball, it all started with a journey. A journey that took them to Gothenburg, Sweden. Partille Cup is not only a place for meeting new cultures and having fun, it is also a place where the new stars are born. Some of them are very well known. They became a TOP stars and now, shining like a path for some new kids who you could meet next summer in Scandinavia…
Uwe Gensheimer (GER) – Rhein-Neckar Löwen
Participated 2005
Uwe is a local hero of his club, team captain and one of the most popular players. Besides all that Uwe Gensheimer is considered one of the worlds best left wingers with a track record hard to beat: Champions League winner, tops scorer in both Champions League as well as in the Bundesliga, Player of the year four times etc., but most important of all, former participant and player of Partille Cup in 2005 and Gold medallist in the same tournament.
Pavel Atman (RUS) – HC Meshkov Brest
Participated 2005
Pavel Atman was a massive transfer coup for Metalurg when they landed his signature. The Macedonian club had a successful season where Atman was a key factor in playing the club to the EHF CL Top 8. Unfortunately financial problems in the club made Atman leave for Qatar before he signed a two-year contract with Belarusian team HC Meshkov Brest. As Gensheimer, Pavel Atman was one of the main attractions during Partille Cup 2005 where he led his Russia to the silver just beaten by Germany.
Johan Jakobsson (SWE) – SG Flensburg-Handewitt
Participated 2005
The third future star from that tournament is a Swedish right back that shot his team to a third place in the very same tournament.
The athletic, heavy shooting Jakobsson got his real championship breakthrough in EHF Euro 2016 in Poland earlier this winter. His lethal and long-range shooting has got him a place in the All-star team of the European Championship.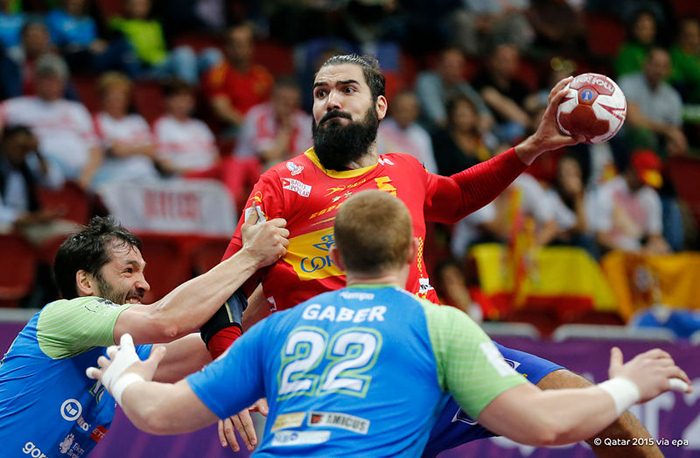 Jorge Maqueda (ESP) -RK Vardar
Participated 2007
After wearing the French side HBC Nantes' jersey for three seasons, Spanish right back Jorge Maqueda decided to move and sign with Vardar Skopje.
The experienced Maqueda is world champion (2013 in Spain) and has also bronze medals from both EC (2014) and WC (2011). If we rewind the tape about 9 years to 2007, that is the year when Jorge went to Gothenburg and Partille Cup to collect one of his 3rd places.
Kamil Syprzak (POL) – FC Barcelona Lassa
Participated 2009
The 23-year-old is the second Polish-born player after Bogdan Wenta to join the legendary club. Standing 207cm tall and weighing 115kg, the line player has great physical presence and has a progressive development of his skills in Barcelona. After winning bronze at the World Championship in Qatar and good performances in the past two seasons, Syprzak has a lot of confidence and a hunger for titles. His WC bronze medal from 2015 is heavy, but one of his less known merits is the pivot position in the All-Star team from that year's Partille Cup.
Aron Palmarsson (ICE) – MVM Veszprém
Participated 2006 and 2009
On top of a very long and impressive list of merits, you can read Champions of Partille Cup together with his teammates of Hafnarfjördur (Iceland). After that follows i.e. German Champion x5, Champions League Gold x2, MVP of EHF CL final 4, a place in the All-Star team from the Olympics 2012 and much, much more. This Centre back has after some very successful years in THW Kiel, signed for the Hungarian EHF CL team MVM Veszprém.
You need only 152 seconds to find out everything about the biggest world's youth tournament…