North Macedonian Super League – Round 2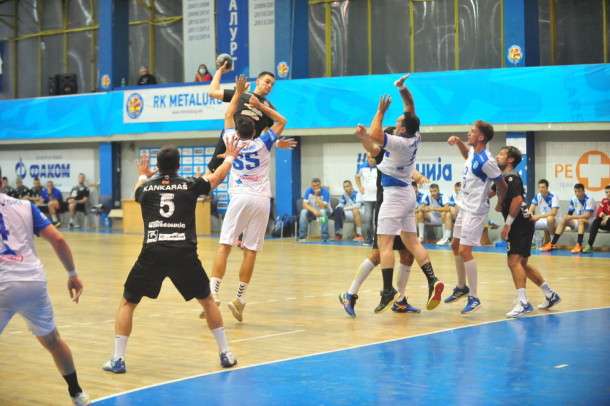 Round 2 of the North Macedonian Super League has been played on Monday. RK Metalurg won away match in Prilep 28:21 as the biggest favorite of the first part of the season.
This year, RK Vardar and RK Eurofarm Pelister will join Play-Off after Group stage. In total, 14 teams will play for the six places (three per group) which will play with two best teams for the trophy since April 2021.
Results – Round 2:
Eurofarm Pelister 2 – Rabotnički 35:23 (16:12)
Prilep – Metalurg 21:28 (11:16)
Struga-Junior 22:20 (7:10)
Radoviš – Golden Art KL7 33:29 (17:15)
Tinex Prolet – Astraion 32:24 (14:10)
Butel – Mladost 1977 33:23 (15:13)
# GROUP A
1. Tinex Prolet Skopje 2 2 0 0 58:44 6
2. Ohrid 1 1 0 0 29:23 3
3. Radovis 2 1 0 1 66:63 3
4. Struga 1 1 0 0 22:20 3
5. Astraion Strumica 2 1 0 1 58:65 3
6. Junior KV 2 0 0 2 40:48 0
7. Golden Art KL7 2 0 0 2 52:62 0
GROUP B
1. Butel Skopje 2 2 0 0 66:46 6
2. Met. Skopje 2 2 0 0 53:42 6
3. Eurofarm Pelister 2 2 1 0 1 56:48 3
4. Mladost 1977 2 1 0 1 50:58 3
5. Tikvesh 1 0 0 1 25:27 0
6. Prilep 1 0 0 1 21:28 0
7. Rabotnicki 2 0 0 2 46:68 0
RK Eurofarm Pelister have a big plans, president Sterjev: We want "double crown"