Fans Corner
50.000 votes for World Handball Player 2022 by Handball-Planet.com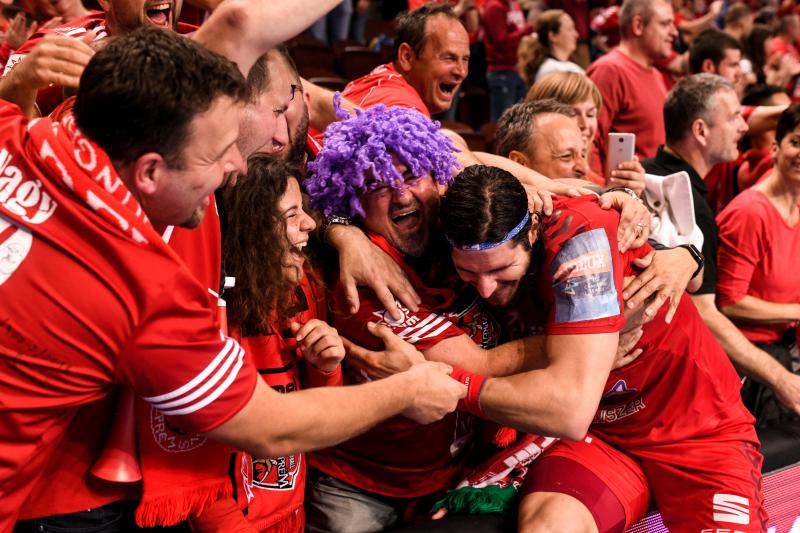 Here is the explanation of the Voting process for the Handball-Planet.com WORLD HANDBALL PLAYER 2022 powered by Nexe Grupa. Handball-Planet.com made the Jury consisted of the handball specialists from 11 countries, while the last member were the visitors of our website (almost 50.000 votes). Journalists voted for their favorites by giving them 3, 2 and 1 vote/point (MVP received 5 points), while the fans' opinion was calculated different with 10, 7, 4 and 1 vote/point per position.
Players with the biggest support of the fans have got 15 and 12 points. That were Icelandic playmaker Gisli Kristjansson with 5.584 votes and Montenegrian left wing Milos Vujovic with 5.308 votes.
World Handball LEFT WING 2022?
Milos Vujovic (Fuchse Berlin – Montenegro) (40%, 5,308 Votes) 12
Bjarki Mar Elisson (Telekom Veszprem – Iceland) (35%, 4,657 Votes) 7
Hampus Wanne (FC Barcelona – Sweden) (13%, 1,673 Votes) 4
Dylan Nahi (Lomza Industria Kielce – France) (12%, 1,558 Votes) 1
Total Voters: 13,196
HP WORLD LEFT BACK 2022 powered by Nexe
Mikkel Hansen (Aalborg Handbold – Denmark) (37%, 1,685 Votes) 10
Petar Nenadic (Telekom Veszprem – Serbia) (33%, 1,513 Votes) 7
Sander Sagosen (THW Kiel -Norway) (18%, 837 Votes) 4
Eric Johansson (THW Kiel – Sweden) (11%, 521 Votes) 1
Total Voters: 4,556
HP WORLD PLAYMAKER 2022 powered by Nexe:
Gisli Kristjansson (SC Magdeburg – Iceland) (59%, 5,584 Votes) 15
Jim Gottfridsson (SG Flensburg Handewitt – Sweden) (21%, 2,009 Votes) 7
Kentin Mahe (Telekom Veszprem – France) (15%, 1,415 Votes) 4
Luc Steins (PSG Handball – Netherlands) (6%, 534 Votes) 1
Total Voters: 9,542
HP WORLD RIGHT BACK 2022 powered by Nexe:
Omar Ingi Magnusson (SC Magdeburg – Iceland) (32%, 1,524 Votes) 10
Dika Mem (FC Barcelona – France) (25%, 1,224 Votes) 7
Mathias Gidsel (Fuchse Berlin – Denmark) (25%, 1,192 Votes) 4
Alex Dujshebaev (Lomza Industria Kielce – Spain) (18%, 883 Votes) 1
Total Voters: 4,823
HP WORLD RIGHT WING 2022 powered by Nexe:
Aleix Gomez Abello (FC Barcelona – Spain) (35%, 1,159 Votes) 10
Arkadiusz Moryto (Lomza Industria Kielce – Poland) (30%, 990 Votes) 7
Niklas Ekberg (THW Kiel – Sweden) (23%, 766 Votes) 4
Blaz Janc (FC Barcelona – Slovenia) (11%, 354 Votes) 1
Total Voters: 3,269
HP WORLD LINE PLAYER 2022 powered by Nexe
Ludovic Fabregas (FC Barcelona – France) (43%, 1,860 Votes) 10
Johannes Golla (SG Flensburg Handewitt – Germany) (22%, 936 Votes) 7
Artsem Karalek (Lomza Industria Kielce – Belarus) (21%, 910 Votes) 4
Kamil Syprzak (PSG Handball – Poland) (14%, 595 Votes) 1
Total Voters: 4,301
HP WORLD GOALKEEPER 2022 powered by Nexe
Niklas Landin (THW Kiel – Denmark) (44%, 3,076 Votes) 10
Andreas Wolff (Lomza Industria Kielce – Germany) (25%, 1,772 Votes) 7
Gonzalo Perez de Vargas (FC Barcelona – Spain) (18%, 1,285 Votes) 4
Andreas Palicka (PSG Handball – Sweden) (12%, 876 Votes) 1
Total Voters: 7,009
HP WORLD DEFENSIVE SPECIALIST 2022 powered by Nexe
Henrik Mollgaard (Aalborg Handbold – Denmark) (34%, 1,032 Votes) 10
Hendrik Pekeler (THW Kiel – Germany) (27%, 813 Votes) 7
Thiagus Petrus (FC Barcelona – Brasil) (26%, 770 Votes) 4
Oscar Bergendahl (Erlangen – Sweden) (13%, 382 Votes) 1
Total Voters: 2,997