IHF
Glenn Solberg is HP World Handball Coach 2022 powered by Nexe Grupa!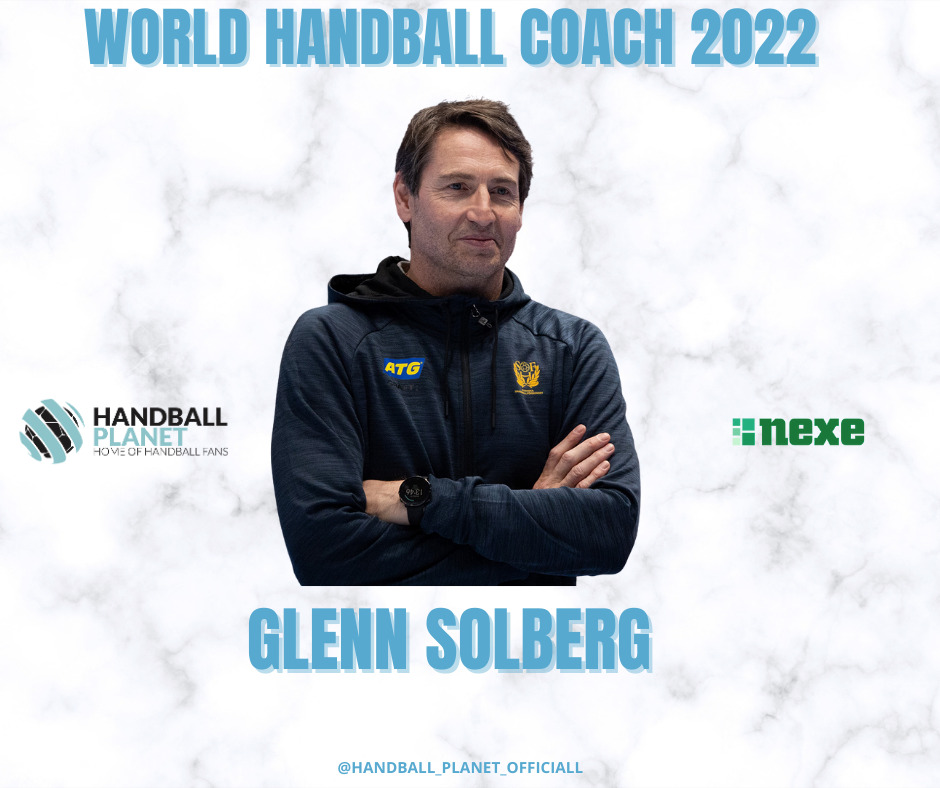 Glenn Solberg is WORLD HANDBALL COACH 2022 powered by Nexe Grupa!
European champion 2022 with team of Sweden was undoubtly the choice for the prestigious prize.
His achievement was praised by the Jury consisted from the 13 handball journalists from all over the world and handball fans, who were the last member of Jury.
Solberg joined Jim Gottfridsson and Gubica – Milosevic on the throne in 2022 Contest organized by Handball-Planet.com.
VOTES (JOURNALISTS + FANS)
Glenn Solberg (Sweden) 24 +3 = 27
Antonio Carlos Ortega (FC Barcelona) 13 + 10 = 23
Talant Dujshebaev (Lomza Industria Kielce) 15 + 7 = 22
Bennet Wiegert (SC Magdeburg) 9 + 5 = 14
Jordi Ribera (Spain) 12 + 1 = 13
VOTE FOR WORLD HANDBALL COACH 2022 POWERED BY NEXE
ANTONIO CARLOS ORTEGA (FC BARCELONA) (57%, 1,027 VOTES) 10
TALANT DUJSHEBAEV (LOMZA INDUSTRIA KIELCE) (25%, 448 VOTES) 7
BENNET WIEGERT (SC MAGDEBURG) (9%, 161 VOTES) 5
GLENN SOLBERG (SWEDEN) (6%, 107 VOTES) 3
JORDI RIBERA (SPAIN) (4%, 73 VOTES) 1
TOTAL VOTERS: 1,816
JURY MEMBERS:
Bjorn Pazen (Handball Woche, Germany)
Rici Gjamovski (g-sport.mk, North Macedonia)
Stig Nygard (TV 2, Norway)
Johan Flinck (Aftonbladet, Sweden)
Jasmin Tajić (Oslobodjenje, Bosnia and Herzegovina)
Jorge Dargel (MARCA, Spain)
Života Bogdanović (Balkan-handball.com, Serbia)
Luca Zadra (pallamano.it, Italy)
Sergey Prigolovkin (handballfast.com, Russia)
Lojze Grčman (Rokometastično, Slovenija)
Marcin Gorczynski (Sportowefakty, Poland)
Sreten Raskovic (TV Arena Sport, Balkan)
Konstantinos Chatzidimitriou (e-HANDBALL.gr, Greece)
ICELANDERS WIN FOUR TITLES
2011 & 2016 – Dagur Sigurdsson (Fuchse Berlin)
2012 & 2013 – Alfred Gislasson (THW Kiel)
2014 – Ljubomir Vranješ (SG Flensburg)
2015 – Claude Onesta (France)
2017 – Raul Gonzales (PSG Handball – Macedonian NT)
2018 – Patrice Canayer (Montpellier Handball)
2019 – Roberto Garcia Parrondo (RK Vardar Skopje)
2020 – Filip Jicha (THW Kiel)
2021 – Nikolaj Jacobsen (Denmark)
2022 – Glenn Solberg (Sweden)
WORLD HANDBALL COACH 2022 – PARTNERS
MASTERS HANDBALL WORLD CUP – mhworldcup.com