IHF
Matija Gubica and Boris Milosevic WORLD HANDBALL REFEREE 2022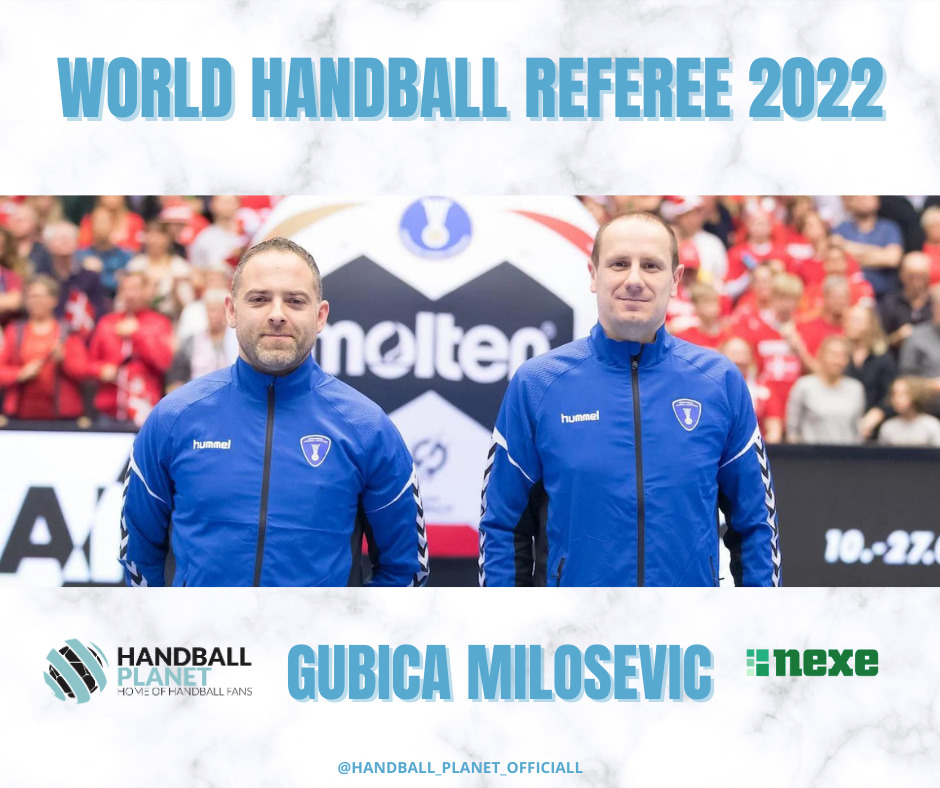 The Croatian referee's pair, Matija Gubica and Boris Milosevic, is the best in the world of handball in 2022! For the seventh year in a row Handball-Planet.com organized the Contest for the WORLD HANDBALL REFEREE 2022 powered by Nexe Grupa, based on opinion of handball journalists from all over the world and handball fans, who voted in the last two weeks and added their votes to existing number of points given by the expert's jury.
Croatian pair has won the prestigious awards already in 2019 and 2020.
VOTES (JOURNALIST + FANS)
Boris Milosevic / Matija Gubica (Croatia) 24 + 3 = 27
Gjorgji Nacevski and Slave Nikolov (North Macedonia) 17 + 5 = 22
Robert Schulze and Tobias Tönnies (Germany) 17 + 1 = 18
Jiri Novotny and Vaclav Horacek (Czech Republic) 8 + 7 = 15
WORLD HANDBALL REFEREES 2022?
 HORACEK – NOVOTNY (CZECH REPUBLIC) (50%, 498 VOTES) 7
NACEVSKI – NIKOLOV (NORTH MACEDONIA) (29%, 292 VOTES) 5
GUBICA – MILOSEVIC (CROATIA) (13%, 125 VOTES) 3
SCHULZE – TONNIES (GERMANY) (8%, 78 VOTES) 1
TOTAL VOTERS: 993
JURY MEMBERS:
Bjorn Pazen (Handball Woche, Germany)
Rici Gjamovski (g-sport.mk, North Macedonia)
Stig Nygard (TV 2, Norway)
Johan Flinck (Aftonbladet, Sweden)
Jasmin Tajić (Oslobodjenje, Bosnia and Herzegovina)
Jorge Dargel (MARCA, Spain)
Života Bogdanović (Balkan-handball.com, Serbia)
Luca Zadra (pallamano.it, Italy)
Sergey Prigolovkin (handballfast.com, Russia)
Lojze Grčman (Rokometastično, Slovenija)
Marcin Gorczynski (Sportowefakty, Poland)
Sreten Raskovic (TV Arena Sport, Balkan)
Konstantinos Chatzidimitriou (e-HANDBALL.gr, Greece)
WINNERS
2016 – Nacevski / Nikolov (Macedonia)
2017 – Gjeding / Hansen (Denmark)
2018 – Raluy / Sabroso (Spain)
2019 & 2020 – Gubica / Milosevic (Croatia)
2021 – Raluy / Sabroso (Spain)
WORLD HANDBALL COACH 2022 – PARTNERS
MASTERS HANDBALL WORLD CUP – mhworldcup.com