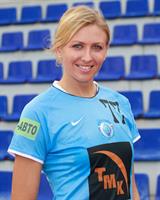 One of the best French teams, Metz Handball decided to improve back line of the squad with signing of Ukrainian left back Anastasiya Pidpalova (30). She is coming from the Russian champion Dinamo Volgograd, team who compete at the Cup Winners Cup 1/4 finals, but obviously lost ambition to defend Russian championship title in competition with Zvezda and Rostov.
Pidpalova will stay in France at least until end of the season.
In the first match for new team, Pidpalova (0/1) lost against Fleury 31:32.