Bojana Popovic leads Montenegro in Rio!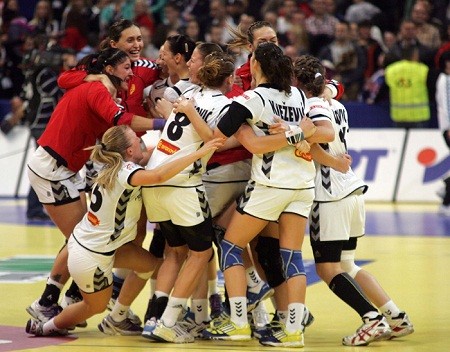 Bojana Popovic will play in Rio! One of the best handball ladies ever will end four years break during he got two kids and help her compatriots on the road to another Olympic success (Montenegro won silver in 2012). The last dance for Montenegrian handball queen was London 2012. She is 37 now, the youngest girl on her position, Djurdjina Jaukovic is 19.
Montenegrian NT head-coach Dragan Adzic announced 15 names. The last is team's captain Marija Jovanovic, who is struggling to beat knee injury which put her out for last few months.
Goalkeepers
Sonja Barjaktarović (Kastamonu, Turkey)
Marina Rajčić (Metz, France)
Wings
Majda Mehmedović (Budućnost)
Biljana Pavićević (Budućnost)
Jovanka Radičević (Vardar, Macedonia)
Radmila Petrović (Budućnost)
Line players:
Suzana Lazović (Budućnost)
Ema Ramusović (Budućnost)
Back line
Katarina Bulatović (Budućnost)
Andrea Klikovac (Vardar)
Anđela Bulatović (Erd, Hungary)
Milena Raičević (Budućnost)
Đurđina Jauković (Budućnost)
Bojana Popović (Budućnost)
Replacement
Marija Jovanović (Issy Paris, France)