Brazil claims Four Nations title in home soil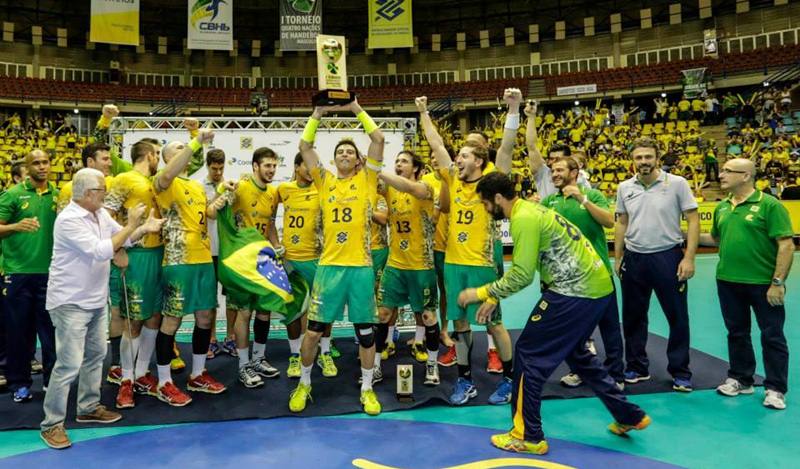 The national team coached by Spanish Jordi Ribera beat Argentina 25-24 on the last day of competition on Saturday and won the Four Nations that took place in Sao Paulo, Brazil. The tournament served as a preparation for all teams for the upcoming World Championship in Qatar.
The home team beat Algeria and Egypt on the first two games and finally defeated Argentina on the last day of competition. The South American 'clasico' was, as usual, very intense, and unlike the last time they met (Pan American tournament in Uruguay), Brazil won the dispute. The conducted by Eduardo Gallardo took the lead on the first half and went to the locker room with a 12-14 lead on the scoreboard; but on the second half, the brazilians, boosted by its crowd, improved its game and took the advantage that would stretch until the end of the game.
Felipe Borges (Montpellier), who captained the Brazilian national team, expressed on the website of the Brazilian Confederation: "We started the tournament in a bad way. We didn't know much about Algeria and we had a hard time playing against them. Then we improved against Egypt, and against Argentina it was tough as usual, but we managed to make a difference. This tournament was very important for our preparation for Qatar".
Algerian Messaoud Berkouswas the top scorer of the tournament (20 goals) and Brazilian center-back Diogo Hubner was chosen best player of the tournament.
Brazil will be in group A in the upcoming World Championship together with host nation Qatar and defending champion Spain; Algeria and Egypt will be in group C with European champion France, while Argentina will be in group D with World's and Europe's vice-champion Denmark.
All results:
30/10
Argentina 21:24 Egypt
Brazil 29:27 Algeria
31/10
Argentina 27:15 Algeria
Brazil 23:20 Egypt
1/11
Algeria 28:29 Egypt
Brazil 25:24 Argentina
TEXT: LAURA AGENA
Photo credit: Facebook CBHb – Confederação Brasileira de Handebol