BUNDESLIGA: Nordhorn win in Berlin after five months!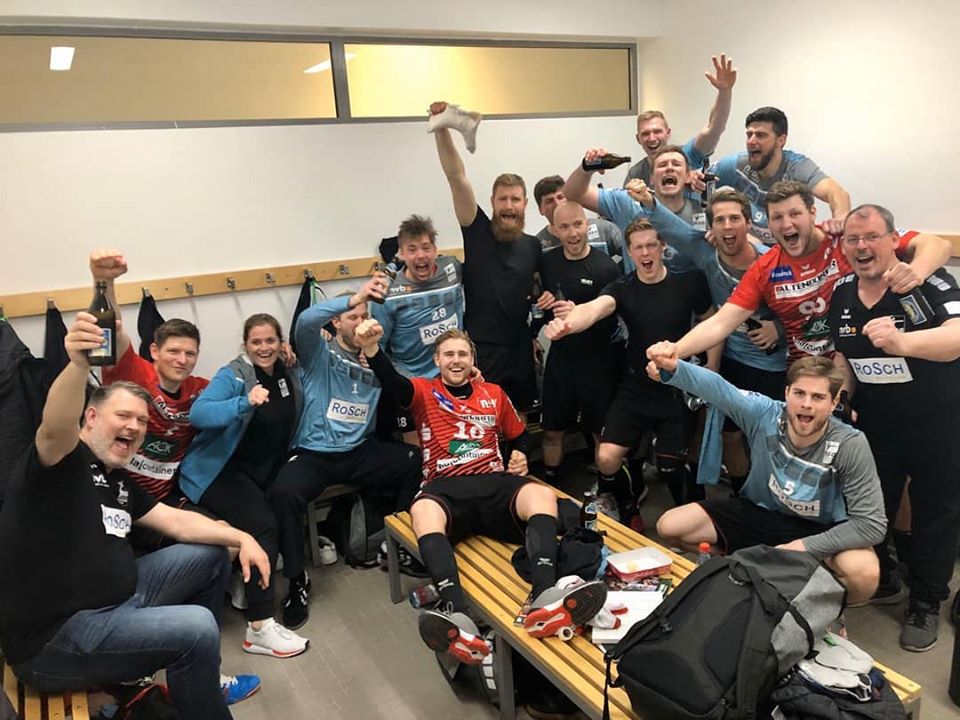 Fucshe Berlin, once again, dissapointed their fans with disasterous performance against HSG Nordhorn Lingen 30:32, the team who celebrated last win on October 5, almost five months ago, against Leipzig 33:30!
The newcomer Dainis Kristopans scored nine goals, but that wasn't enough for home team to avoid unpleasant defeat which put them out of the Championship race!
Füchse Berlin – HSG Nordhorn-Lingen 30 : 32 (12:14)
Füchse Berlin: Kristopans 9, Lindberg 8/4, Marsenic 5, Matthes 2, Struck 2, Holm 1, Kopljar 1, Mandalinic 1, Simak 1
HSG Nordhorn-Lingen: Weber 14/6, Mickal 7, Miedema 4, Pöhle 3, Kalafut 1, Leenders 1, Possehl 1, Vorlicek 1
MT Melsungen – Bergischer HC 28 : 25 (15:12)
MT Melsungen: Häfner 5, Kühn 4, Maric 4, Mikkelsen 3/2, Schneider 3, Ignatow 2, Reichmann 2, Salger 2, Allendorf 1, Lemke 1, Sidorowicz 1
Bergischer HC: Boomhouwer 3/2, A. Gunnarsson 3, Nippes 3, Stutzke 3, Weck 3/1, Babak 2, Gutbrod 2, Arnesson 1, Damm 1, Darj 1, Fraatz 1, Johannsson 1, Petrovsky 1
TBV Lemgo Lippe – HSG Wetzlar 32 : 27 (14:14)
TBV Lemgo Lippe:
Carlsbogard 10, Elisson 5/1, Cederholm 4, Theuerkauf 4/2, Guardiola Villaplana 2, Kogut 2, Schagen 2/1, Hangstein 1, Klimek 1, Zerbe 1
HSG Wetzlar:
Lindskog 6, Frend Öfors 4, Forsell Schefvert 3, Rubin 3, Björnsen 2, Feld 2, Holst 2/2, V. Kristjansson 2, Mirkulovski 2, Torbrügge 1
HC Erlangen – Die Eulen Ludwigshafen 23 : 27 (11:12)
HC Erlangen: Schäffer 4, Sellin 4/2, Büdel 3, Haaß 3, Minel 3, Överby 3, Bissel 2, Firnhaber 1
Die Eulen Ludwigshafen: Mappes 8, Valiulin 5, Dippe 3/1, Durak 3, Jer. Müller 3, Scholz 2, Stüber 2, Falk 1
HBW Balingen-Weilstetten – SC Magdeburg 32 : 34 (16:18)
HBW Balingen-Weilstetten: Schoch 9, Strobel 5, Lipovina 4, Niemeyer 4, Thomann 3, Grétarsson 2/1, Saueressig 2, Zobel 2, Nothdurft 1
SC Magdeburg: M. Damgaard 9, O`Sullivan 6, Kuzmanovski 5, Pettersson 3, E. Schmidt 3, Hornke 2/1, Steinert 2, Chrapkowski 1, Lagergren 1, Mertens 1, Musche 1
STANDING:
1. Kiel 24 20 0 4 726:603 40
2. Flensburg-H. 24 18 2 4 641:563 38
3. SC Magdeburg 25 17 1 7 729:670 35
4. Hannover-Burgdorf 24 15 4 5 693:650 34
5. Fuchse Berlin 25 17 0 8 716:662 34
6. Rhein-Neckar 23 13 4 6 652:613 30
7. MT Melsungen 24 14 2 8 665:644 30
8. HSG Wetzlar 25 11 3 11 697:696 25
9. Leipzig 23 11 1 11 628:633 23
10. Lemgo 25 10 3 12 698:714 23
11. Goppingen 23 9 1 13 589:597 19
12. Bergischer 25 8 3 14 657:674 19
13. Stuttgart 25 7 5 13 650:704 19
14. Erlangen 25 8 2 15 647:689 18
15. Minden 23 7 3 13 610:634 17
16. Ludwigshafen 25 6 3 16 583:634 15
17. HBW Balingen-Weilstetten 25 6 3 16 689:760 15
18. Nordhorn-Lingen 25 2 0 23 594:724 4