Cimos Koper in financial troubles – Bombac left the team – Direction "Plock"?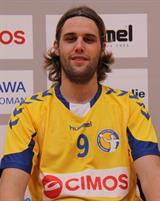 Handball-Planet.com sources from Slovenia speaking about financial crisis in one of the best teams – Cimos Koper, who will face with huge resizing of budget for the next season. Slovenian NT goalkeeper, Gorazd Skof left the team before end of the contract in direction French Creteil, while other players are free to find a new professional challenge due unpaid earnings. One of them who used that opportunity is left – middle back Dean Bombac (24) who terminated the contract with the Cimos Koper before the end of the season.
Polish Orlen Wisla Plock was interested for Bombac, but that transfer was "on hold" due high transfer fee. Now, that isn't problem and some information from Slovenia telling that the deal between Bombac and Wisla are already made.