German national team coach and Fuchse Berlin leader in the last six years, Dagur Sigurdsson talked for Handball-Planet.com about various handball topics. The World Handball coach 2011 by Handball-Planet.com spoke about his six years era in Berlin, which is coming to the end next summer, but also his new job with German NT, Iceland, Japanese adventure and some other interesting things…
Do you satisfied with the current season?
– Our aim this season was place in Europe, so it should be fifth or sixth place at the end. We played very badly in the first part of the season, but we are still in the race for it, so that makes us happy. Usually, when you played bad as we did in the first part of the season, you miss your goals, but our destiny is still in our hands. We qualified for the EHF Cup F4 and DHB Cup F4 In the same time. I am getting more satisfied with the season than I was before the Christmas.
You had fantastic moments by playing at VELUX EHF CL F4 three years ago. Why is now EHF Champions League so far away from Berlin? Is that only question of money or…
– One thing is money. You can take for example Magdeburg this season. If you don't play European Cups, if you keep your player healthy and fresh only for Bundesliga, if you have no problem with injuries, then you have possibility to play for third or fourth place in domestic League. This was our situation a few years ago, but then we began to play Champions League and European Cup. On the top of it you are getiing more injuries because of the number of matches. This season is also difficult for us because Jaszka, our playmaker is injured, but also our main player in defense, Denis Spoljaric. We had a short period of time to fit newcomers in the team. Pavel Horak was out for two months, also one other player is lost for the whole season. We gave chance to some younger guys, but it is very difficult when you took responsibility into your own hands.
The biggest reinforcement was Petar Nenadic. Are you satisfied with his performance?
– He came to the team when season has already started. We had huge problems at that time, he helped us a lot. He took responsibility, played good, scored goals and showed emotions. Now, we get more players back in the team, Horak and Igropulo are back, so Nenadic role is not big as at the beginning, but still very important.
Did you expect these three teams in fight for the Champions League – THW Kiel, Rhein Neckar Lowen and Flensburg? Who surprised you?
– Magdeburg was a little bit surprise. I knew the coach, they got a few new players, but this season they stayed quite healthy and have a good run.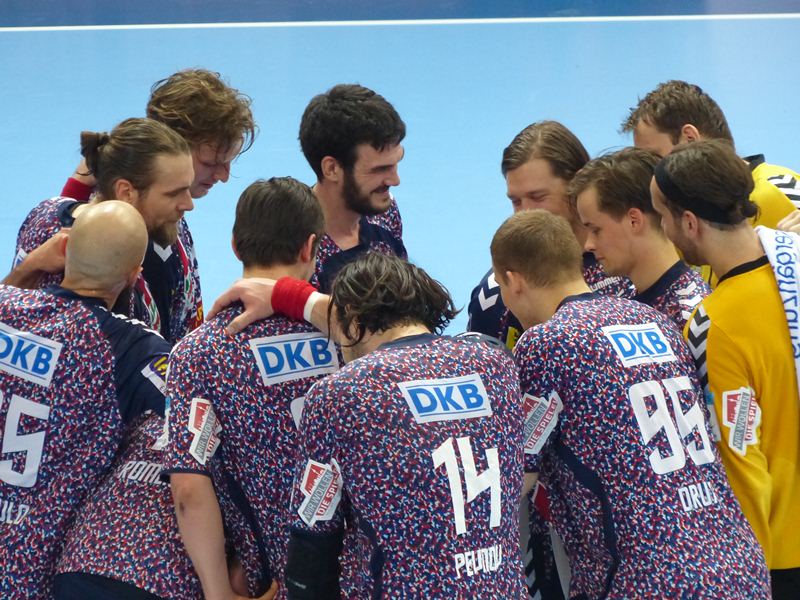 German BIG 4 stayed without HSV Handball last year. Who is capable to fill that gap, to join the best three teams in the league and make TOP 4?
– Teams from the position four until 10 or 12, they have good rosters, but not the same level as few years ago when seven teams had world class players. Now it is little bit different, there are good teams, but to be able to chalenge TOP 3 you have to be able to play stabile, to have lucky with injuries and big roster.
WE MADE A "HEALTHY CLUB" IN BERLIN
How you feel at the end of your era in Fuchse Berlin. Are you sad, tired, etc?
– Not yet. I am not so tired. I thougth it will be even more stressful, but It was fantastic time for me. We made a lot of changes in the club. It is one of the best examples for healthy club with great youth teams. We won A Jugend and B Jugend tournaments in Germany. We took every year some titles there. We reached the third place in DKB Bundesliga, played EHF Champions League F4, won third place in EHF Cup and brought the first ever national Cup in 128 years of club's history. That was a big thing for us. At the same time we changed sports hall, facilities, we have new training complex. There have been a lot of changes during this six years. We moved the club in very nice direction and I hope that this team is established for the future.
After Icelander another Icelander – Erlingur Richardsson is coming to the German capital. Is that your idea or…
– Actualy, I didn't pick the candidates. They were picked by Bob Hanning and Volker Zerbe. Of course, I gave my opinion. I had a voice in the choice, but my influence wasn't decisive. I hope that Erlingur will fit well. He already shown good work with youth categories on Iceland, but also Austria.
How you can explain phenomen of Icelandic coaching power? There are no examples in other sports that so many coaches in important teams coming from such a small country…
– It is very strange. Maybe it is only coincidence that we are all here at the same time…
ICELANDERS – MAYBE JUST " GOOD VALUE FOR MONEY"
Are you part of Scandinavian school or you have your own?
– This is good question, because I have never been a coach on Iceland. I only played for the national team. It is difficult to say. Gudmundur and Alfred, they had the same coach in Iceland, they played in the same generation of national team. Then, Patrekur and me came. Gudmundur was our coach, so I think that is more about tradition of handball in Iceland and national team. We went out, tried to offer something. It is always same question – why, but it is difficult to say. At the end, maybe it is just a good value for money.
JAPANESE CONNECTION…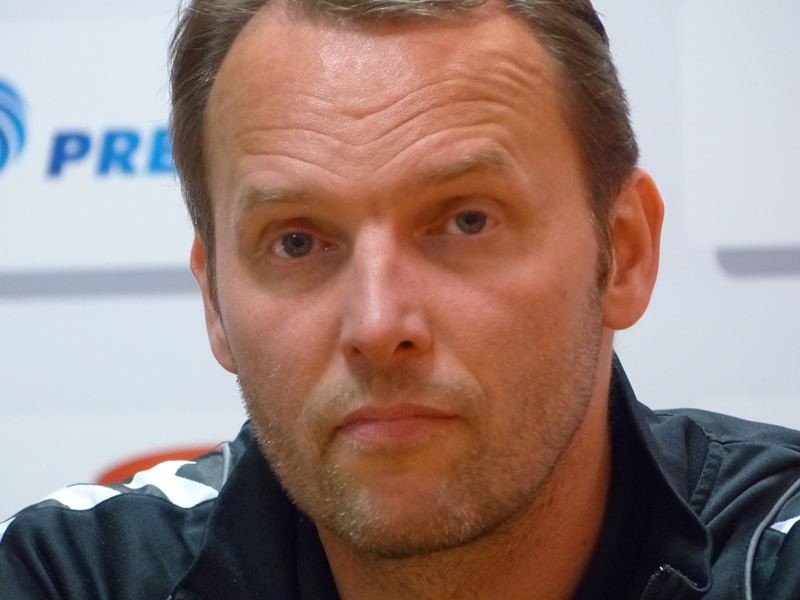 You had in your career Japanese handball adventure…
– I was three years in Hiroshima played for the club Wakunaka. It was a great experience. I could get same money in Europe and in Japan in that time. I choose to go there as I had a lot of injuries in that period. I wanted to try something new after Bundesliga's experience. It was fantastic time for me and my family. It was a good experience. All the clubs were company clubs. My company produced very heatlhy garlic suplements. When the guys finish their job, they are going to the sports hall to practice. We had a very good coach who had experience from Germany – Mr. Sakamaki. He was very open minded, had a good training. The biggest problem was that league is very small with only eight teams. We didn't have enough games, but teams have been good with a lot of proffesionals. For example, Frederik Vol and Steffan Stoecklen were playing there, a lot of Russian guys, Kulishenko and Kudinov, one guy from Estonia – Bruno Bramanis. Japanese teams are now again with only domestic players, but they are still companies.
You have Japanese project in Fuchse – some young players gaining experience in Berlin…
– I have been trying to help them since I left. I stayed in contact and usualy going once a year to Japan, having seminar or training camp. We took one player to play for our second team in third division. He did very well, so we took another, who is doing even better. He played for the first team, scored first goal, so it is good experience for him and good motivation for handball in Japan.
It looked that you beat a lot of domestic candidates in a race for the German head-coach position…
– I didn't see that as competition. I had a really good job in Berlin, I was happy to do this job, but of course I was excited about the challenge of the national team. We are just at the start. We are still finding the right mixture of players, right structure for our team. It will go up and down, I am sure, but at the end we will be more stable and win more games…
German handball needs success as we saw that everything raised after gold at WCh 2007…
– We will get a little bit higher profile now because of tournament which will be host by Germany and Denmark in 2019. That will help mentally. Only winning the games and success gives you more satisfaction…
GERMANY SHOULD COMPETE FOR THE MEDALS
A lot of handball world think that German gold in 2007 wasn't deserved. Could you built the team capable to repeat the same success without "wind" from the refferes in 2019?
– First of all, I can't judge what was in 2007, because I didn't see all the matches. I cant say that we will make that type of the squad, it is a long of period ahead of us. Germany should compete for the medals. We have young team, there is no reason, why we should not compete for the medals in 2019, 2020. It will take time, but don't forget that we beat Poland, draw with Denmark in Qatar. It was good…
What happened in quarter-final against Qatar?
– We have been not good enough against the host team. It wasn't one of our best games. Weinhold, who was our key player on the tournament, got injured for this match. Even in the next match against Croatia he couldn't play, but he played against Slovenia and we won. That was difficult thing for us. We are now making a little bit bigger squad to cope for these kind of situation, when someone can't play, in order to keep system in the same level.
YOUNGSTARS NEED TO SHOW QUALITY
The most of the critics of legendary Heiner Brand during his era on German bench was linked with the reluctance of TOP German teams to give chance to the young German guys…
– If you had the feeling that young players aren't good enough and that you trust to older guys, it is normal thing that you want to play with someone who can bring you to the victory. You can see Icelandic team now, they have same roster for 10 years, there is a lot of critics, but you don't see some young guys who can come and replace them. You don't give a chance to young players just because they are talented, but they have to show that on the court. You have to see that on the court.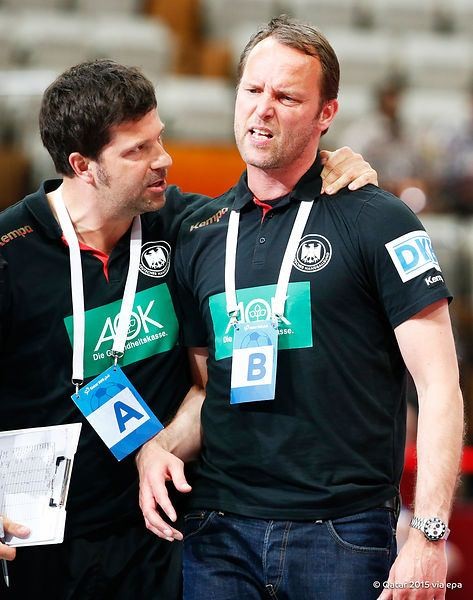 Why Iceland going down?
– They had also unlucky with key players, but still have Palmarsson and Petersson. Both of them had problems with injuries in the last couple of months, but when Iceland can count on all the players, they can be very, very dangerous. They are not so stabile like they have been five-six years ago, but still they are one of the best Scandinavian teams.
A lot of TOP coaches like Gislason, Gudmundsson, Cervar spoke about necessity of changing handball rules – clock-shot for example. What do you think about that?
– It is very exciting, but it comes with a lot of difficulties. What will happened, we have to test it more before we make a change. If you put the shot-clock, rivals will put more defense players outside, it would be more fouls. Do we want more fouls? I am not sure that we want more fouls in handball. It would be more atractive if we have less fouls. If you have more fouls, should you count fouls like in basketball or? This kind of things need to be changed also. It isn't only to put shot-clock inside, it will take more things…
What is annoying you the most in handball rules?
– I am the coach, we have a lot of people who are sitting around. Well, I am not in the suit. We have really a lot of people in suits in sports hall. They should see the problems.
Do you think that the "wind of changes" have to come from players and the coaches? You have the power…
– Am I in the power? Maybe that is the problem. I don't feel powerful at all. I dont think that players feel the power neither…. – concluded Dagur Sigurdsson in interview for Handball-Planet.com.