DKB BUNDESLIGA: SG Flensburg Handewitt superb start – 10 of 10!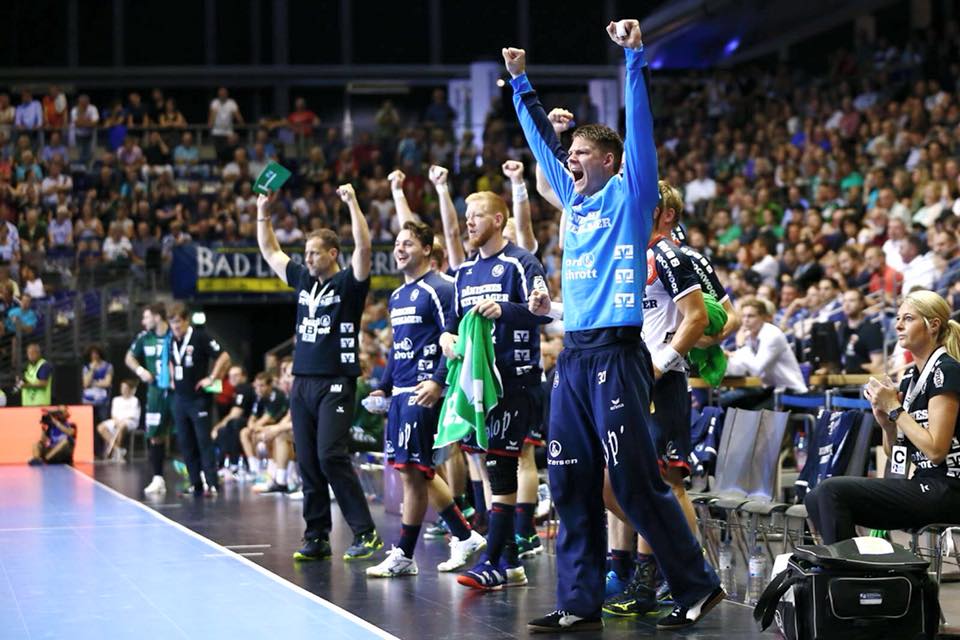 SG Flensburg set new record of the start of season with 10 wins! Team of Maik Machulla celebrated a tight win in Lepzig – 21:20.
Rhein Neckar Lowen outplayed Fuchse Berlin 28:25. "The Foxes" will have a chance for revenge in quarter-final of the German Cup.
Rhein-Neckar Löwen – Füchse Berlin 28:25 (15:11)
Rhein-Neckar Löwen: Appelgren, Palicka; Schmid (3), Lipovina (1), Sigurdsson (5/1), Radivojevic, Tollbring, Abutovic, Mensah, Fäth (2), Groetzki, Taleski (3), Guardiola, Petersson (6), Nielsen (2), Kohlbacher (6)
Füchse Berlin: Heinevetter, Semisch; Elisson (3), Holm (5), Gojun (1), Genty, Lindberg (2), Simak (4), Urios, Schmidt, Matthes, Jallouz (5), Marsenic (5), Gliese;
SC DHfK Leipzig – SG Flensburg-Handewitt 20:21 (11:9)
SC DHfK Leipzig: Putera (14 saves), Villadsen (1/1 save) – Semper (7), Jurdzs, Janke (1), Pieczkowski (1), Roscheck, Milosevic (1), Weber (9/4), Krzikalla (1), Gebala, Santos
SG Flensburg-Handewitt: Buric (13 saves), Bergerud () – Karlsson, Hald, Golla, Glandorf (1), Svan (2), Wanne (1/1), Jeppsson, Jøndal (7/2), Steinhauser, Zachariassen, Johannessen (4), Gottfridsson (2), Lauge (4)
THW Kiel – VfL Gummersbach 31:25
THW Kiel: N. Landin (8 saves), Wolff (4 saves); Duvnjak (3), Reinkind (4), M. Landin (5/3), Firnhaber (n.e.), Kristjánsson, Wiencek, Ekberg (6/3), Rahmel, Dahmke (3), Zarabec (1), Bilyk (6), Pekeler (2), Nilsson; Trainer: Gislason
VfL Gummersbach: Lichtlein (5 saves), Puhle (2 saves); Schröter (4), Martinovic (4), Vukovic, Baumgärtner, Sommer (6), Köpp, Villgrattner, Herzig, Becker, Preuss (6), Noruozinezhad (4), Busch (1); Trainer: Bahtijarevic
RESULTS:
Kiel – Gummersbach
31:25
Leipzig – Flensburg-H.
20:21
MT Melsungen – Bergischer
26:23
Rhein-Neckar – Fuchse Berlin
28:25
SC Magdeburg – Erlangen
31:25
HSG Wetzlar – Goppingen
26:21
Lemgo – Ludwigshafen
23:23
Bietigheim-Metterzimmern – Minden
28:30
Stuttgart – Hannover-Burgdorf
37:34
STANDINGS:
| | | | | | | | | |
| --- | --- | --- | --- | --- | --- | --- | --- | --- |
| 1. | Flensburg-H. | 10 | 10 | 0 | 0 | 277:232 | 20 | |
| 2. | SC Magdeburg | 11 | 10 | 0 | 1 | 352:279 | 20 | |
| 3. | Kiel | 11 | 9 | 0 | 2 | 319:257 | 18 | |
| 4. | Rhein-Neckar | 9 | 7 | 1 | 1 | 256:213 | 15 | |
| 5. | Bergischer | 10 | 7 | 0 | 3 | 284:263 | 14 | |
| 6. | Fuchse Berlin | 10 | 7 | 0 | 3 | 275:257 | 14 | |
| 7. | Minden | 10 | 6 | 0 | 4 | 294:283 | 12 | |
| 8. | MT Melsungen | 10 | 6 | 0 | 4 | 282:280 | 12 | |
| 9. | Hannover-Burgdorf | 10 | 5 | 0 | 5 | 283:284 | 10 | |
| 10. | Goppingen | 9 | 4 | 0 | 5 | 211:224 | 8 | |
| 11. | Lemgo | 10 | 3 | 1 | 6 | 240:251 | 7 | |
| 12. | Stuttgart | 10 | 3 | 1 | 6 | 269:300 | 7 | |
| 13. | HSG Wetzlar | 10 | 3 | 0 | 7 | 248:265 | 6 | |
| 14. | Gummersbach | 10 | 3 | 0 | 7 | 248:288 | 6 | |
| 15. | Erlangen | 10 | 2 | 0 | 8 | 245:272 | 4 | |
| 16. | Leipzig | 10 | 1 | 1 | 8 | 244:266 | 3 | |
| 17. | Ludwigshafen | 10 | 0 | 2 | 8 | 246:292 | 2 | |
| 18. | Bietigheim-Metterzimmern | 10 | 1 | 0 | 9 | 240:307 | 2 | |