DOMAGOJ DUVNJAK IS HANDBALL PERSON 2013! Fantastic Croatian player won the prestigious award of Handball-Planet.com Jury and the visitors (about 3.500) for the last year in which he was the Handball Planet and IHF World Best Player. HSV's leader has got the highest number of votes ahead of Brazilian female NT head-coach Morten Soubak and Ex-Spanish, now Qatari head-coach, Valero Rivera.
"Ever since he started playing professionally in the shirt of C.O Zagreb, it was clear to everyone that the handball world will be richer for another great player, and 2013 confirmed that we're talking of a guy who entered the handball hall of fame. Domagoj Duvnjak's games for HSV Hamburg, with which he won the EHF Champions League in Cologne, as well as for the Croatian national team, whose leader he is – successor of the legendary Ivano Balic, was another proof of the world class he possesses. Well mannered, calm, kind. All of that along with fantastic handball knowledge makes us candidate Domagoj Duvnjak for HANDBALL PERSON OF THE YEAR 2013″…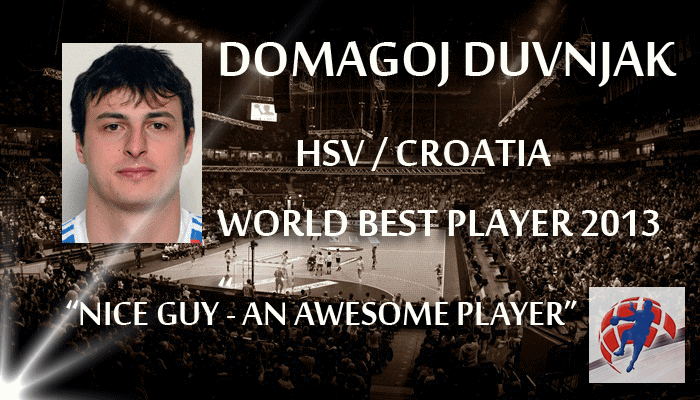 Idea was to praise a person who has made the biggest positive impact on handball – on court, but also outside. HANDBALL PERSON has to be an example which will be followed and recognized by the global handball community. Values of achievement could be measured in number of goals and trophies, but on the same level with positive examples to the future generations, charity, commitment, battle with injuries and illnesses or great handball visions which provide "revolution" in some handball countries, teams or organizations.
This year a jury combining 23 TOP players, coaches, handball legends and media representatives, nominated 15 persons for HANDBALL PERSON OF THE YEAR 2013. As last member of the jury, you can give your vote to the already existing, until the 12th of February when we announce the name of the winner.