Easy job for the champions: Bielecki destroys Gornik Zabrze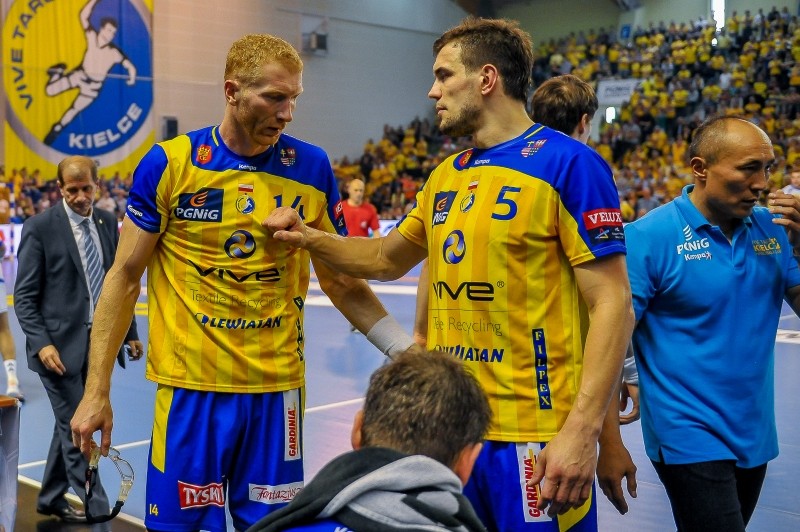 Two days after a difficult CL match against Motor Zaporozhye, Vive Tauron Kielce played against Górnik Zabrze and beat them 42:32. List of injured Kielce players increased to 4 as Uroš Zorman joined Aginagalde, Buntić and Rosiński. Still, Polish Champions were considered favourites.
Bronze medalists of the last season began quite well – they kept being one step ahead of the hosts for almost 10 minutes. In the 11. minute Karol Bielecki gave his team their first lead (7:6) after scoring a penalty shot. Górnik tried to keep pace with them but two fastbreakes of Reichmann and Jachlewski increased the gap to 3 goals (10:7). Coach Liljestrand immediately called time-out and it helped Górnik for a moment (10:9, 16. minute). However, slowly but surely, Kielce started regaining their advantage and finished the first part leading 19:14.
Not much changed in the second half; 15 minutes from full-time Kielce reached 10-goal-lead (33:23) and both teams loosen up a bit. The audience in Kielce saw many fast goals, both teams didn't really stay strong in defence.
Even though the game wasn't harsh, the referees were quite eager to punish players with 2-minute suspensions: Kielce players were sent off the court 5 times, and Zabrze players 7 times.
Top scorer for Kielce: Karol Bielecki (10 goals); for Zabrze: Robert Orzechowski (6 goals).
MARTYNA USNARSKA