On Saturday 5 September, the eyes of the handball world where on the Giza Pyramids Plateau in Egypt as the draw event for the 2021 IHF Men's World Championship took place at the UNESCO World Heritage List site.
The spectacular event was jam-packed with a variety of special entertainment, inspiring speeches, championship reveals and, of course, the all-important preliminary group draw.
It all started with a reception featuring live music, with the guests in attendance then joined by the VIPs, who where welcomed by host, and Egyptian television presenter, Jessy Taha. She then gave the stage to two very special draw presenters: Egyptian actors Engy El Mokaddem and Khaled El Nabawy.
A number of speeches followed, including IHF President Dr Hassan Moustafa, Egyptian Prime Minister – and former handball player – Dr Mostafa Madbouly and Egyptian Minister of Youth and Sports, Dr Ashraf Sobhy.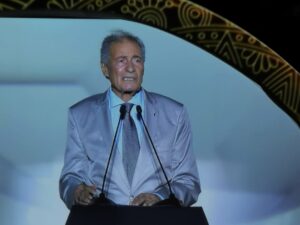 After long expectations, the draw finally took event. As a host nation, Egypt team had the privilege to choose the group to compete in when the draw was over. Three teams from each group will play in second round, where there four new groups will be formed. Two best teams from those groups will play in quaterfinals.
GROUP A
Germany
Hungary
Uruguay
Cape Verde
GROUP B
Spain
Tunisia
Brazil
Poland
GROUP C
Croatia
Qatar
Japan
Angola
GROUP D
Denmark
Argentina
Bahrain
DR Congo
GROUP E
Norway
Austria
France
North America qualificant
GROUP F
Portugal
Algeria
Iceland
Morocco
GROUP G
Sweden
Egypt
Czech Republic
South America qualificant
GROUP H 
Slovenia
Belarus
South Korea
Russia