EHF CL 2020/21: Cupara show, Semper saves Flensburg, Motor win in Zagreb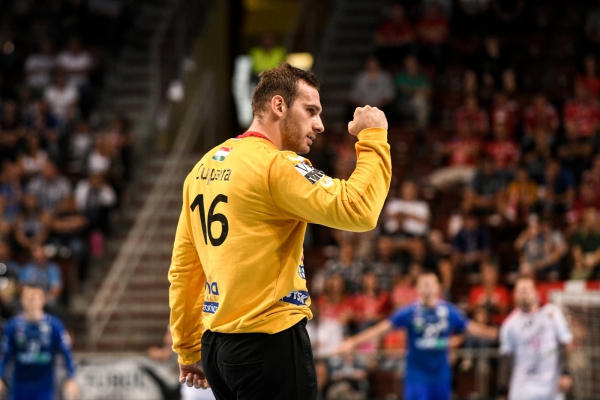 Franz Semper has saved SG FLensburg Handewitt against HC Meshkov Brest 29:29 two seconds before the buzzer. Motor Zaporozhye won in Zagreb, while Vladimir Cupara led Telekom Veszprem with 22 saves in victory in Aalborg 33:27.
PSG Handball made turnover in Porto to win 34:31.
GROUP B
Aalborg – Telekom Veszprem 27:33
Nantes – Celje POSTP.
PPD Zagreb – Motor Zaporozhye 23:24
GROUP A
Flensburg-H. – Meshkov Brest 29:29
Porto – Paris SG 31:34
GROUP A:
1. Vive Kielce 6 4 1 1 188:168 9
2. Flensburg-H. 6 4 1 1 188:182 9
3. Meshkov Brest 6 3 1 2 163:167 7
4. Porto 7 2 2 3 197:201 6
5. Paris SG 5 2 0 3 161:156 4
6. Vardar 1961 3 1 1 1 78:75 3
7. Elverum 4 1 0 3 116:131 2
8. Szeged 3 0 0 3 66:77 0
GROUP B
1. Telekom Veszprem 6 5 1 0 205:165 11
2. Barcelona 5 5 0 0 194:140 10
3. Aalborg 7 4 0 3 211:214 8
4. Kiel 5 3 1 1 155:134 7
5. Motor Zaporozhye 5 2 0 3 144:159 4
6. Nantes 4 1 0 3 110:122 2
7. Celje 6 1 0 5 166:201 2
8. PPD Zagreb 6 0 0 6 144:194 0