EHF CL F4 BLOG: Let's put a smile on that face! Germans are coming…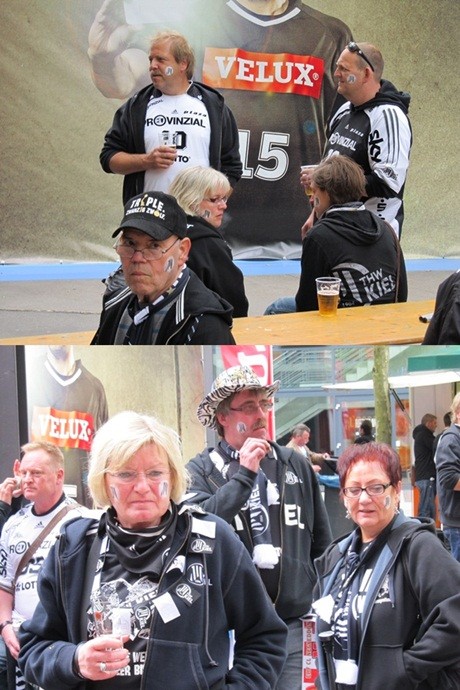 Kiel and Flensburg, the last two steps for reaching Macedonian handball dreams! And not just Macedonian, to be fair, because ever since the F4 tournament has been established in 2010, getting to Cologne, to one of the most prestigious halls in Europe – "Lanxes Arena", has been a dream for all the European top teams. Of course, it's not all about the teams, because the delight in Cologne is something we have already named "handball Mecca", something that every player, coach, fan, journalist, basically anyone who loves handball should see and feel at least once in a lifetime. Handball pilgrimage. The place really makes you feel like you're a part of one giant handball family, truly proud that you're into handball.
Kiel is undoubtedly the greatest handball team on the planet. No one is bigger than them. They may not have as many trophies, there are some more famous teams, but Kiel is a machinery that comes like no other. There are handball projects, rising up and shutting down, getting up and quieting down, but Kiel… well, they are always there. Only one team besides them can be proud of their definition in the "code" – failure is not an option! And that is Barcelona. Difference between these two is handball was born in Kiel, and Barca on the other side is a part of one big football story – story of one people, one movement, one life philosophy. Kiel is "pure handball". That is why everybody in the world of handball respects them.
Another major true and checked fact is that F4 with and without Kiel is not the same event. Take our word for it. The only time that "Zebras" didn't qualify for F4 was back in 2012, and there was completely different atmosphere. Colourless and tasteless. You know who showed up? Kiel's supporters… 10 do 12 thousand of them! Black and white shirts, with the best seats in the arena, their so called cheering for the teams that were there (Spanish finale) and for the good moves, well it was just pale. As the club defines it's work by "failure is not an option", their fans are expected to be wherever the trophies are. Those people adore handball and their club. Tickets for F4 are being bought one year in advance!
There is one great beerhouse in Cologne, right next to the famous cathedral – "Dom" the symbol of the city, which is next to the railway station "Gaffel Am Dom" with it's three platforms. Whatever happens in the quarter finals, Keil's fans will pack the beerhouse! They will be drinking beer from big and heavy mugs, all of them – the old and the young, kids and pensioners, covered in blush and dressed in their black and white shirts, but how many drinks will they have and who will be they toasting to, well that's not only up to their minions. Lino Červar's personnel will also have few things to say.
Who would "handball fathers" likely be seeing on the streets of Cologne is a rhetorical question we all the answer to. It's not a hidden fact, everyone knows who will spend more money on beer, "bratwurst" and the variety of pennyworths, and yes – every conspiracy theory takes away both time and energy.
The energy is to be kept for dreaming peacefully about the first morning of June…
Do you believe in coincidences? Well, here's something you can rely on. "Zebres" have lost their two matches – against Melsungen and Magdeburg. Do you know any other team that begins with M and is about to play Kiel? We know one.
Kiel is in "transition". Departure of great four – Ahlm, Narcisse, Ilić and Omeyer has marked one era. Only players Gislasson that can truly count on are Jicha and Vujin. Others are playing below the required level to win like clockwork. Lauge is out for the rest of the season, Zeitz is nowhere to be found – one hand in Kiel and the other in Veszprem, Palmarsson is often injured, and the African attraction Jallouz is struggling with the epithet "failed investment". Their trade mark, back court line, is not on secure feet. There is no goalkeeper giant to make team feel secured, and there is no one to fill the dominant figure place on the line. Shortly – lot of things seems to be missing for the invincibility halo. Maestro coach that is Alfted Gislasson takes the maximum out of what he's working with, and it's fair to say that he hasn't got as much as some others do and he's certainly not the No1 favourite for the trophy.
As Aron Kristiansson is still picking his brains up after a Metalurg lecture, the new Icelandic scalp will be much harder task for Lino Červar. Gislasson is a great coach, and he has proven it countless times before. He has won the EHF's Champions League with two teams.
Eliminating Kiel still sounds like a science fiction. Still it sounds unreal. Still it's light years away, but…
Flensburg, some 50 kilometres further from Skopje, seems little closer, but hey, we'll save that for some other time.
Things to be remembered and realized that this itself is a material for history books: even if this is further as they will go, they should not take a smile away from their faces. You know which quarter finals participation will this be for Veszprem? Thirteenth! Flensburg – eight! They're still waiting on titles, they're still hoping, that day must come once. Metalurg and Vardar are at the entry gates. Have patience!
source: balkan-handball.com
translation: Maid Begic
Polls

Loading ...