EHF CL FINAL4 2019 in Cologne for 10th year in a row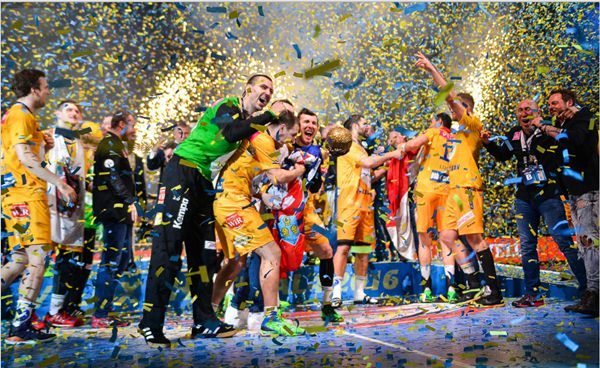 It was in May 2010 that the VELUX EHF FINAL4 as the season finale of the VELUX EHF Champions League was introduced and played for the first time in Cologne's LANXESS arena. With the event's success immediately visible, the European Handball Federation and its marketing arm, EHF Marketing, made ends meet, decided to have the EHF FINAL4 stay in Cologne and started to continuously develop the event.The 2019 edition will mark the 10th and therefore the FINAL4's first anniversary edition – and it will take place in the LANXESS arena on 1 and 2 June 2019.
The decision was confirmed following a meeting in the Cologne town hall. While the contract with the LANXESS arena and the City of Cologne runs until 2020, it included a one-time option to move the VELUX EHF FINAL4 to a different location.
The VELUX EHF FINAL4 has established itself as the indisputable season highlight of European club handball among players and fans alike. On both playing days the LANXESS arena is sold out with 19,750 fans. An additional success factor: the matches on court are complemented by a spectacular show programme.
Furthermore, the City of Cologne and the role it plays as a welcoming host is inseparably linked to the great experience the thousands of fans, who travel to the VELUX EHF FINAL4, enjoy year by year.
Statements
"The VELUX EHF FINAL4 in the LANXESS arena is a superb handball festival, renowned and recognised worldwide. I'm very happy that the EHF decided to also stage the 2019 edition in Cologne, enabling us to celebrate together the 10th anniversary of the VELUX EHF FINAL4. The City of Cologne is looking forward to an extraordinary event and great matches between Europe's best teams, and I hope that there will be many more anniversaries to come."
Henriette Reker, Lord Mayor of the City of Cologne

"Besides fantastic events such as last year's Ice Hockey World Championship, which entertained the crowds at LANXESS arena, and next January's Handball World Championship, the VELUX EHF FINAL4 is one of the outstanding events in our state's sports calendar. We are really happy that the event will take place in Cologne this year and next year and we will support LANXESS arena and the City of Cologne that the VELUX EHF FINAL4 stays with us also beyond 2020."

Bernhard Schwank, Northrhine-Westphalia State Chancellery
"The fact that the EHF decided to stage the anniversary edition of the VELUX EHF FINAL4 in the LANXESS arena feels like an accolade for the arena and for Cologne as an event city. The VELUX EHF FINAL4 has developed into Europe's best and most important indoor sport event and impresses year by year also off-court with an incredible show programme. No matter which teams take to the court to fight for the trophy, a bustling but always peaceful atmosphere is guaranteed. We are looking forward to the next three editions of the VELUX EHF FINAL4 and hope that this spectacular event will also stay beyond 2020 in Germany's largest and best-visited muti-functional indoor arena."
Stefan Löcher, Geschäftsführer LANXESS arena
"We are looking forward to returning to Cologne in 2019. Since the first event in 2010, the city has become an all-important address for European club handball. Therefore it fits perfectly that we will celebrate also the 10th edition with almost 20,000 fans in the LANXESS arena."
Michael Wiederer, European Handball Federation President
"The upcoming 9th edition of the VELUX EHF FINAL4 is once again an example for ultimate top-class sport. Cologne as the host city and the highlight of European club handball make thousands of fans flock to the event year by year. The never-ending run for tickets is only one proof for this. More than 10,000 fans come from outside of Germany and create an incredible atmosphere in Cologne. The 10th edition of the VELUX EHF FINAL4 in 2019 is not only an anniversary for the event itself, but also for the great partnership we have with the City of Cologne and the state of Northrhine-Westphalia. We are looking forward to our return next year."
David Szlezak, Managing Director EHF Marketing
Source: EHF