EHF CL: No mercy from Barca and Veszprem, Aalborg still perfect!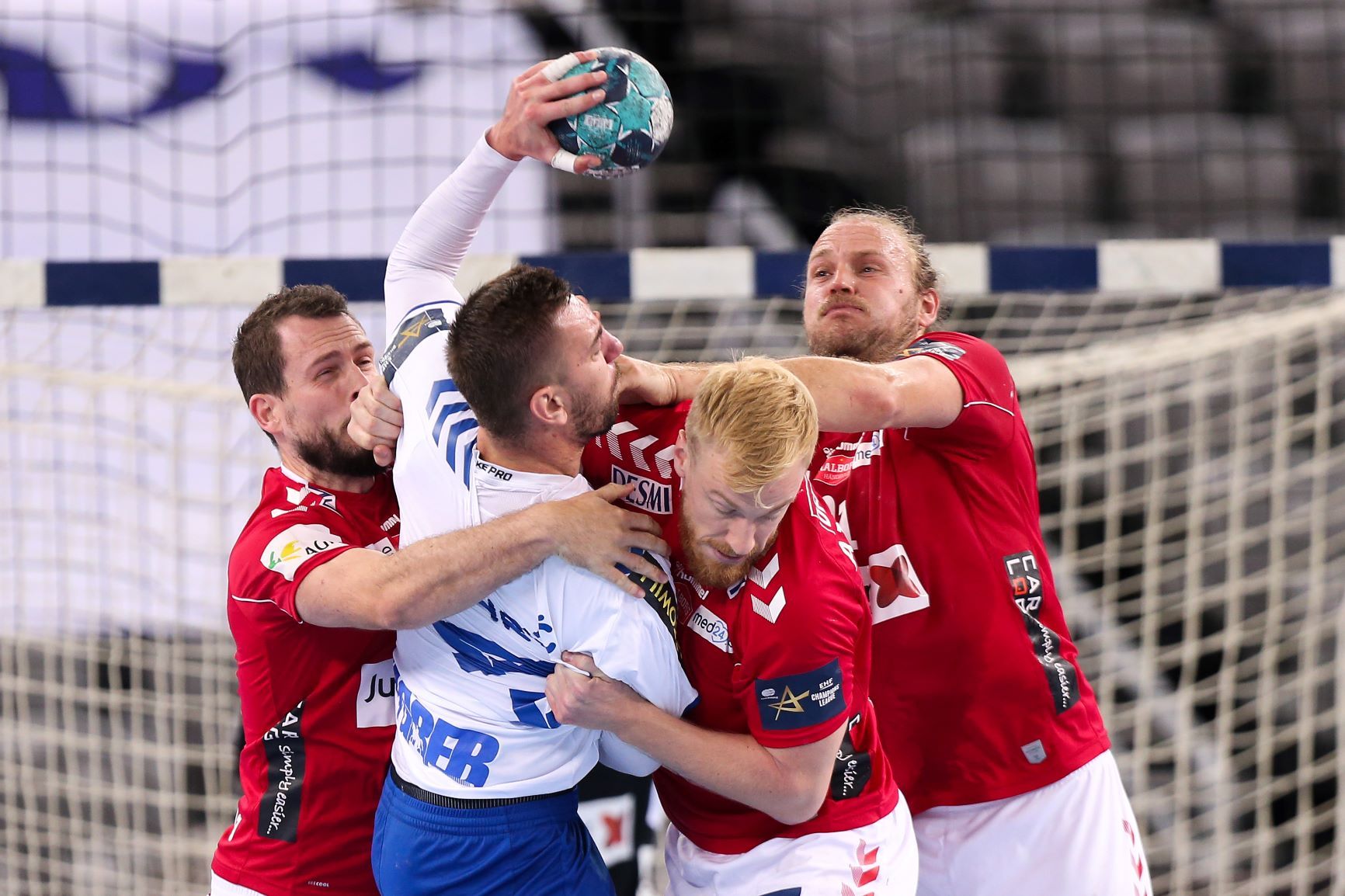 Home sides where perfect in Wednesday's 4th round matches in EHF Champions league. Telekom Veszprem and FC Barcelona Lassa had no mercy with Balkan teams, Celje Pivovarna Lasko and PPD Zagreb, while Danish Aalborg an Lomza Vive Kielcea showed their straingh against HC Nantes and Meshkov Brest.
Aalborg – Nantes 32:24 (16:9)
Aalborg: Magnus Saugstrup 6, Nikolaj Læsø 4, Jonas Samuelsson 3, Mads Christiansen 3, Henrik Møllgaard 3, Buster Juul-Lassen 3, Rene Antonsen 2, Sebastian Barthold 2, Feliz Claar 2, Lukas Sandell 2, Benjamin Jakobsen 2.
Nantes: Mattéo Fadhuile-Crepy 5, Baptiste Damatrin 4, Thibaud Briet 4, Sebastian Augustinussen 2, Dragan Pechmalbec 2, Kiril Lazarov 2, David Balaguer 2, Adrian Figueras 1, Milan Milic 1, Lucas de la Breteche 1.
Telekom Veszprém – RK Celje Pivovarna Lasko 39:24 (18:11)
Telekom Veszprém: Cupara, Corrales – Manaskov 3, Yahia 3, Moraes 4, Nilsson 6, Markussen, Ligetvári, Marguc 4, Lauge 4 (2), Strlek 3, Blagotinsek 1, Nenadic 4, Maqueda, Lékai 2, Borozan 5
RK Celje Pivovarna Lasko: Ivic, Vujovic – Cvetko, Mazej, Marguc 7 (6), Sarac 2, Groselj, Poteko, Cepic 1, Kodrin, Horzen 2, Grebenc 2, Kljun 5, Leban 2, Novak 1, Nacinovic 2
Łomża Vive Kielce – HC Meshkov Brest 34:27 (18:11) 
Łomża Vive Kielce : Wolff, Kornecki – Vujović 3, Sićko 3, A. Dujshebaev 4, Tournat 4, Karacić 4, Lijewski, Moryto 1, Surgiel 1, Fernandez 2 , Kaczor, D. Dujshebaev 2, Gębala 2, Karalek 4, Gudjonsson 4
HC Meshkov Brest: Pesic, Matskevich – Santalov 2, Panic 2, Shkurinskiy 5, Yurynok, Skube 3, Usik, Shumak 6, Baranau, Razgor, Paczkowski, Selviasiuk 4, Vailupau 5, Malus
Barcelona-PPD Zagre b 45:27 (24:13)
Barcelona: Perez de Vargas 2 saves, Moller 16 saves; Sorhaindo 2, Dolenec 1, Arino 4, Janc 2, Gomez Abello 6, Dos Santos, Mem 8, Cindric 2, Garcia 2, Palmarsson 5, Makuc 1, Langaro 4, Fabregas 2, Frade 6
PPD Zagreb: Jandric 9 saves; SipiC, Vistorop, MandiC, Bozic – Pavletic 4, Klarica 4, Srna, Obradovic 2, Stojnic 1, Bozovic 2, Laljek, Matanović 1, Ravnic 2, Hrstic 3, Grahovac 3, Vlah 5