EHF CL: Veszprem with +8 over Meshkov to keep No.2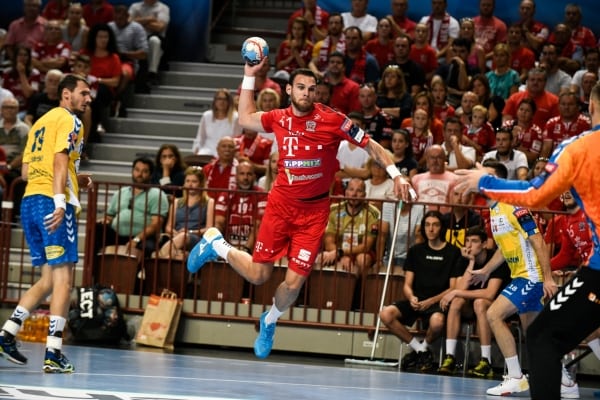 Telekom Veszprem showed once again progress in their level of performance against Meshkov Brest 28:20 (9:10). Visitors stayed competitive until 13:13, when their resistance has been broken in the "Veszprem Arena".
Mackovsek and Nilsson were TOP scorers with four goals each.
Telekom Veszprém – HC Meshkov Brest 28:20 (9:10)
Telekom Veszprém: Mikler – Manaskov 1, Ilic 3, Tonnesen 2, Gajic 1, Nilsson 4, Nagy 3, Marguc, Strlek 1, Terzic 1, Blagotinsek 1, Nenadic 1, Mahé 4, Mackovsek 4, Lékai 2
HC Meshkov Brest: Pesic, Matskevich – Kulak 4, Shkurinskiy 4, Yurynok 1, Poteko, Ivic 1, Shumak 1, Baranau, Horak, Razgor 4, Obranovic, Selviasuk, Djukic 4 (1), Djordjic, Shylovich 1
STANDING:
.

Barcelona

12
10
0
2
420:338
20

2.

Telekom Veszprem

13
9
0
4
374:347
18

3.

Vardar

13
8
1
4
373:363
17

4.

Vive Kielce

13
7
0
6
404:394
14

5.

Rhein-Neckar

13
7
0
6
393:380
14

6.

Meshkov Brest

13
3
1
9
347:396
7

7.

Montpellier

12
3
1
8
322:345
7

8.

Kristianstad

13
2
1
10
373:443
5