Index category
EHF EURO 2022 All-Star team: Jim Gottfridsson is MVP for the second time!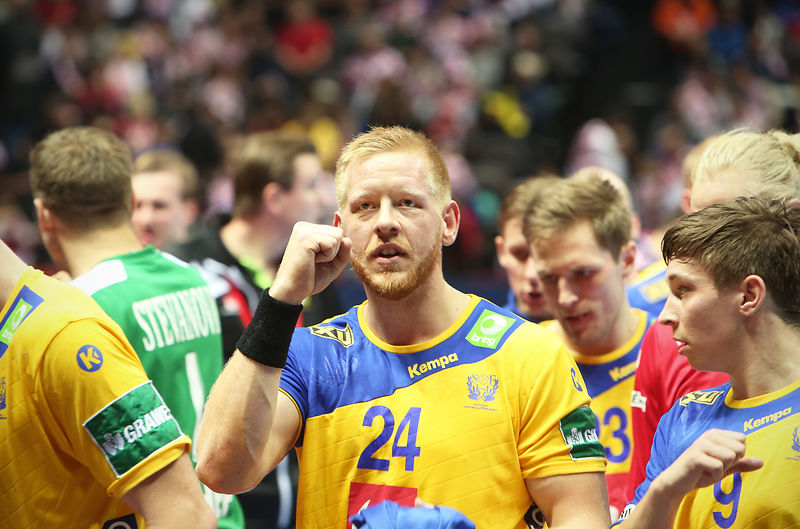 Sweden's Jim Gottfridsson is the MVP of an EHF EURO 2022 All-star Team drawn from seven different countries
Swedish centre back Jim Gottfridsson has been named Most Valuable Player of the Men's EHF EURO 2022 after leading his team to their sixth EHF EURO final.
Gottfridsson, who had scored 33 goals and assisted in a further 47 prior to Sunday's final, heads a list of players from seven countries in this year's All-star Team.
It is Gottfridsson's second MVP award at an EHF EURO, after he previously scooped the title when Sweden won silver in 2018. He is the third player to win two EHF EURO MVP awards, after Croatia's Ivano Balic in 2004 and 2006 and France's Nikola Karabatic in 2008 and 2014.
Gottfridsson's teammate Oscar Bergendahl was named best defender after a strong performance in only his second major tournament for Sweden.
Denmark also have two players represented on the All-star Team: left back Mikkel Hansen and right back Mathias Gidsel. Hansen has previously made the EHF EURO All-star Team three times (2012, 2014 and 2018). Only Balic, with three All-star Team places between 2004 and 2008 in addition to his two MVP awards, has featured more than Hansen.
None of this year's All-star Team was named to the team in 2020, and Hansen and Gottfridsson are the only players to have previously reached an EHF EURO All-star Team.
The team was chosen through a fan vote attracting over 10,000 votes via the Home of Handball App, combined with the views of a panel of EHF experts.
Source: EHF
Mandatory Credit © HRS / Jure Erzen