EHF
EHF European League: Magnusson powers Magdeburg to victory in Sweden, the "Bears" comes from behind to beat the "Lions" thanks to Kotov!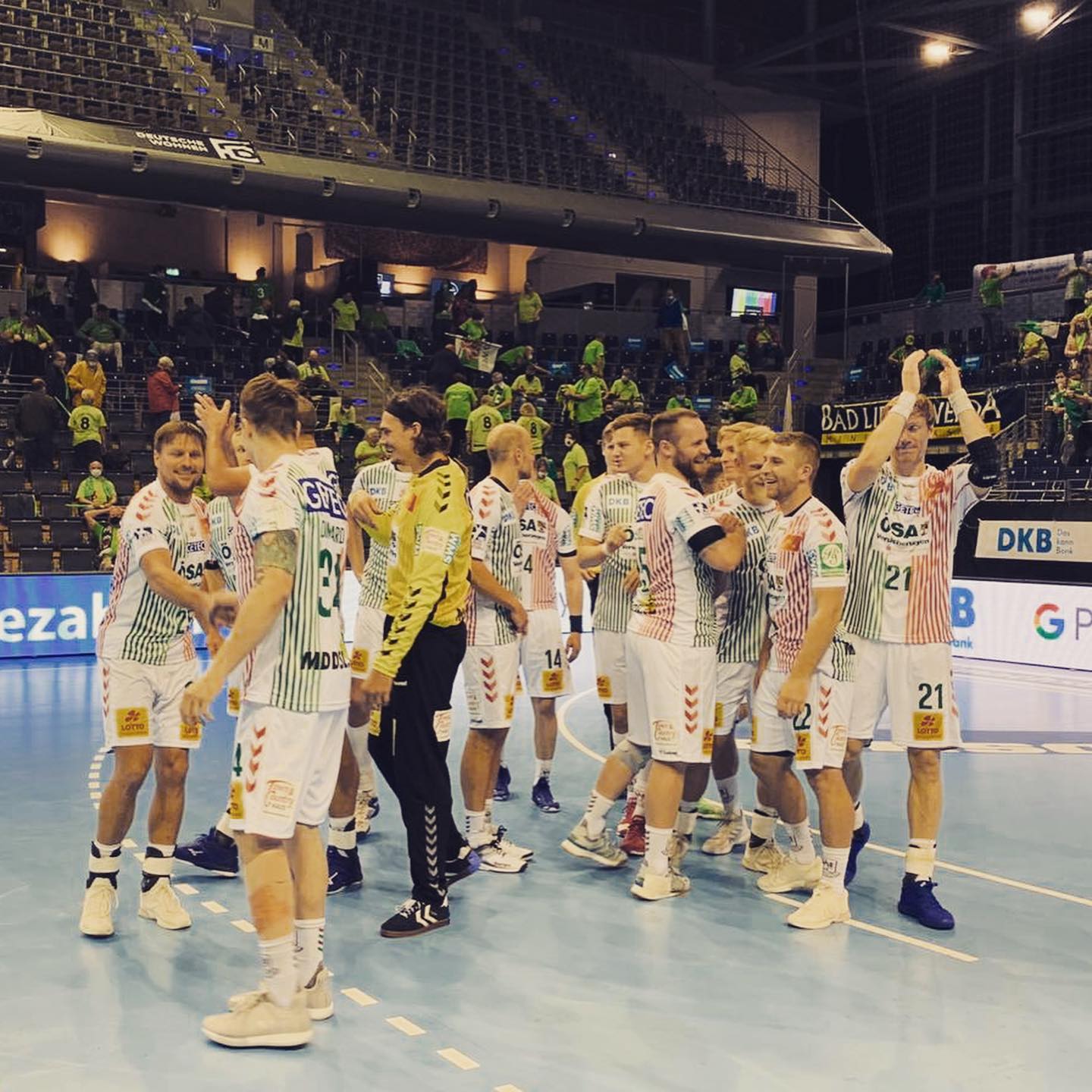 THE first EHF European League quarterfinal legs gave us huge excitement and promised even greater battles within seven days (April 20th). Chekhovskie Medvedi came from six goals behind to beat Rhein-Neckar Löwen 33:32.
Alexander Kotov was Chekhovski Medvedi's hero on Tuesday night: The fans in the arena cheered for the Russian international, who kept the flames of hope burning for the Bears, who tamed the Lions in a goal-loaded thriller 33:32. Kotov netted 13 goals to be the best Medvedi scorer with 67 overall goals. Rhein-Neckar Löwen now has the fate in their hands to make it to the EHF Finals when they host the Russian side on the home court next week – but were lucky to score the last three goals after being down 33:29.
Chekhovskie Medvedi – Rhein-Neckar Löwen 33:32 (15:19)
Chekhovskie Medvedi: Pavlenko, Grushko – Kiselev, K. Kotov (3), Andreev (1), A. Kotov (13), Ovchinnikov, Ostashchenko (7), Kornev, Furtsev, Stelmakh, Maslennikov, Novokreshchenov, Ermakov (4), Kulak , Kosorotov (5)
Rhein-Neckar Löwen: Palicka, Katsigiannis (53.-56.), Späth – Schmid (7/3), Scholtes, Kirkeløkke (2), Lagarde (1), Patrail, Tollbring (6), Ahouansou, Lagergren (3), Groetzki ( 5), Gislason, Nilsson (2), Kohlbacher (6)
After defeating CSKA Moscow in the Last 16, Danish side GOG was facing a whole other challenge in the quarter-finals, hosting Polish side Wisla Plock in the first leg.
Wisla finished first in group A during the group phase, taking eight wins in a row before eliminating Sporting CP in the Last 16.
But the Danish side could hope to take advantage ahead of the second leg after suffering just one defeat at home this season in the European League.
GOG – Wisla Plock 30-27 (17-12)
GOG: Mathias Gidsel 7, Emil Jakobsen 7, Emil Lærke 6, Morten Toft Olsen 3, Oscar Bergendahl 2, Kasper Kildelund 2, Frederik Bo Andersen 2, Steven Jacobsen 1.
Wisla Plock: Michal Daszek 7, Abel Serdio 5, Przemyslaw Krajewski 5, Alvaro Ruiz 3, Zoltan Szita 2, Niko Mindegia 2, Lovro Mihic 1, Krzysztof Komarzewski 1, Mirsad Terzic 1
Another gala performance from Omar Ingi Magnusson was the key for SC Magdeburg's tenth straight European League victory.
The Icelander scored 12 goals in the first leg of the quarter-finals on Tuesday in a six-goal win at IFK Kristianstad, putting one foot in the door to the final tournament. In the first match between the sides, the hosts, who played their first quarter-final in an international competition, were always playing second fiddle.
Kristianstad – Magdeburg 28-34 (13-16)
Kristianstad: Adam Nyfjall 5, Gregor Ocvirk 4, Albin Nilsson 4, Markus Olsson 3, Fredrik Petersen 3, Zoran Bozic 3, Teitur Einarsson 2, Hampus Henningsson 2, Olafue Gudmundsson 1, Isak Larsson 1.
Magdeburg: Omar Magnusson 12, Michael Damgaard 5, Daniel Pettersson 4, Zeljko Musa 4, Lukas Mertens 3, Christian O´Sullivan 1, Christoph Steinert 1, Moritz Preuß 1, Marko Bezjak 1.
A double Champions League winner and a double EHF Cup winner, the clash between Montpellier and Berlin looked like a European League final already.
For the first official game between the two sides in European competitions, one was hard-pressed to predict which team would take the advantage into the second leg and we had to wait until late in the tie to find out.
Montpellier – Fuchse Berlin 32-29 (13-11)
Montpellier : Valentin Porte 8, Melvyn Richardson 5, Hugo Descat 4, Yanis Lenne 3, Kyllian Villeminot 2, Diego Simonet 2, Arthur Lenne 2, Lucas Pellas 2, Julien Bos 2, Benjamin Bataille 1, Gilberto Duarte 1.
Fuchse Berlin : Lasse Andersson 6, Fabian Wiede 6, Valter Chrintz 4, Jacob Holm 4, Mijajlo Marsenic 2, Marian Michalczik 2, Tim Matthes 2, Hans Lindberg 2, Marko Kopljar 1.