IHF
French girls held off Sweden to return to the Olympic final!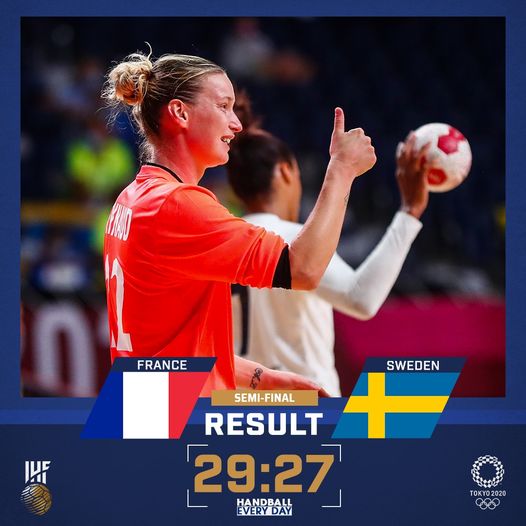 The second time in a row, French girls will fight for the Gold in the Olympic finals! The Olivier Krumbholz side prevailed in the semis against a strong Sweden team – 29:27 (15:14).
After winning the silver medal at the Rio Olympics in 2016, France will play a new Olympic final on Sunday in Japan. Les Bleues qualified by beating Sweden in a hotly contested match, decided by Cléopatre Darleux.
If Leynaud had been the star of the quarter-final, Cléopatre Darleux was going to be the heroine of this semi-final. The Brestoise's seven stops at 35% were not nearly as impressive as her teammate's twenty-two, but they were of utmost importance. Two saves on Nathalie Hagman at first, to prevent the Swedes from going ahead, before a double parade in a counterattack, which offered the French women the opportunity to take, for the first time in the match, three lengths in advance.
France: Leynaud (3 saves / 16 shots including 0/3 pen), Darleux (7 saves / 20 shots including 0/3 pen); Nocandy (1/2), Coatanea (1/3), Valentini (2/2), Pineau (3/5 including 0/2 pen), Lassource (1/2), Zaadi (7/13 including 0/2 pen ), Niakaté (1/1), Sercien Ugolin (3/4), Flippes (3/5), Edwige, Foppa (5/5), Nze Minko (2/3)
Sweden: Bundsen (5 stops / 27 stops), Ryde (4 stops / 11 stops including 3/3 pen); Stromberg (1/5), Blohm, Roberts (5/8), Petren, Lundstrom (1/2), Westberg (6/7 including 6/6 pen), Lagerquist (1/2), Lindqvist (2/4) , Hagman (3/5), Thorleifsdottir, Hansson (2/3), Carlson (6/7)