Germany
German trio and Wisla Plock for EHF European League 2021 trophy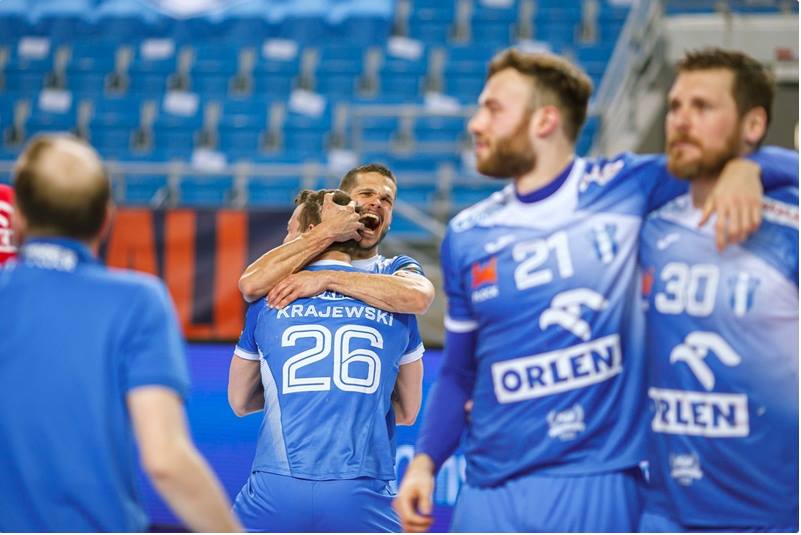 Three German teams (Rhein Neckar Lowen, SC Magdeburg and Fuchse Berlin) and Polish Orlen Wisla Plock will play for the first ever trophy of the EHF European League at Final4 in Mannheim on May 22/23.
Tbe Berlin's "Foxes" beat Montpellier after -3 in France with eight goals – 31:23 to ensure another battle for European trophy.
It was very interesting in Plock, where GOG had a chance to score for 30:27 in the last attack, just as it was in Denmark, but they made technical fault which put "Oilers" ahead with tremendeous result for Xavi Sabate and his boys.
Rhein Neckar Lowen and SC Magdeburg had easy job to secure Final4 places. "Lions" beat Chekhovskie Medvedi 37:27 to "cover" 32:33 from Russia.
Magdeburg outplayed IFK Kristianstad 39:31 (first match 34:28).
Orlen Wisła Płock – GOG 31:26 (13:13)
Orlen Wisła: Morawski, Homayed – Mihić 5, Szita 4, Daszek 4, Mindegia 4, Serdio 4, Susnja 2, Ruiz 1, Komarzewski 1, Krajewski 6, Terzić, Stenmalm
GOG: Hallgrimsson, Haagen – Gidsel 5, Bergendahl 5, Jakobsen 4, Laerke 3, Olsen 3, Andersen 4, Madsen 1, Kildelund 1, Jacobsen, Gardsal, Andersen, Nilsen, Clausen
Rhein-Neckar Löwen – Chekhovskie medvedi 37:27 (19:8)
Löwen: Palicka, Katsigiannis, Späth (ab 46.) – Schmid (8/3), Veigel (2/2), Kirkeløkke (4), Lagarde (3), Patrail (2), Tollbring (6), Ahouansou (1), Lagergren (1), Groetzki (4), Gislason, Nilsson, Kohlbacher (6)
Chekhov: Pavlenko, Grushko (ab 31.) – Kiselev (2), K. Kotov (2/1), Andreev (1), A. Kotov (6), Ostashchenko (1), Kornev, Furtsev (4), Larin, Maslennikov (4), Novokreshchenov, Ermakov, Kulak (4), Kosorotov (4/1), Sinitcyn
Füchse Berlin – Montpellier HB 31:23 (16:13)
Füchse: Milosavljev (11 saves, 1 7-meter), Wiede 2, Holm 3, Gojun 1, Andersson 1, Lindberg 12/7, Matthes 6, Koch 1, Marsenic 4, Drux 1,
Montpellier: Bonnefoi (12 saves), Sego (1 save), Simonet 2, Descat 3/1, Bos 2, Bataille 2, Lenne 1, Richardson 2, Borges 3, Porte 2, Lenne 3, Duarte 3
PHOTO: Orlen Wisla Plock