News
Gislason reveals the German squad for the Olympics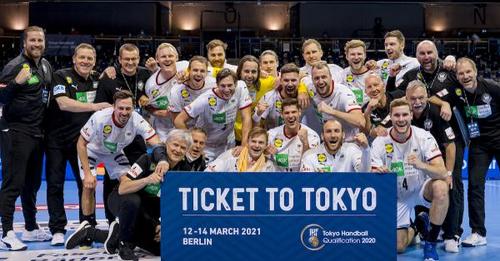 The head coach of the German national team, Alfred Gislason, reveals the squad for the upcoming Olympic Games in Tokyo (July 23 to August 8). There are 17 players on the list, but Goalkeeper Silvio Heinevetter and right-winger Tobias Reichmann will initially be in Tokyo as reserves.
Should a nominated player get injured by July 5, swaps in individual cases are still possible. After that, squad changes are only possible with a medical certificate. So, there are additional 11 players waiting for their chance to get into the team.

In the group phase, Germans will face Spain, Argentina, France, Norway, and Brazil.
1
Johannes Bitter
GK
02.09.1982
HSV Hamburg
12
Silvio Heinevetter*
GK
21.10.1984
MT Melsungen
33
Andreas Wolff
GK
03.03.1991
Lomza Vive Kielce
3
Uwe Gensheimer
LW
26.10.1986
Rhein-Neckar Löwen
31
Marcel Schiller
LW
15.08.1991
Frisch Auf Göppingen
9
Tobias Reichmann*
RW
27.05.1988
MT Melsungen
6
Finn Lemke
LB
30.04.1992
MT Melsungen
35
Julius Kühn
RB
01.04.1993
MT Melsungen
95
Paul Drux
RB
07.02.1995
Füchse Berlin
15
Juri Knorr
CB
09.05.2000
Rhein-Neckar Löwen
17
Steffen Weinhold
RB
19.07.1986
THW Kiel
25
Kai Häfner
RB
10.07.1989
MT Melsungen
4
Johannes Golla
LP
05.11.1997
SG Flensburg-Handewitt
13
Hendrik Pekeler
LP
02.07.1991
THW Kiel
48
Jannik Kohlbacher
LP
19.07.1995
Rhein-Neckar Löwen
73
Timo Kastening
RW/RB
25.06.1995
MT Melsungen
20
Philipp Weber
LB/CB
15.09.1992
SC Magdeburg
Alfred Gislason
Coach
07.09.1959
The remaining players of the 28-player squad are: Joel Birlehm (SC DHfK Leipzig), Fabian Böhm (TSV Hannover-Burgdorf), Rune Dahmke (THW Kiel), Sebastian Firnhaber (HC Erlangen), Patrick Groetzki (Rhein-Neckar Löwen), Sebastian Heymann (Frisch Auf Göppingen), Till Klimpke (HSG Wetzlar), Marian Michalczik (Füchse Berlin), Jona Schoch (HBW Balingen-Weilstetten), David Schmidt (Bergischer HC), Lukas Stutzke (Bergischer HC).