EHF
Györi, Brest, Vipers and CSKA reached DELO EHF Champions league final four!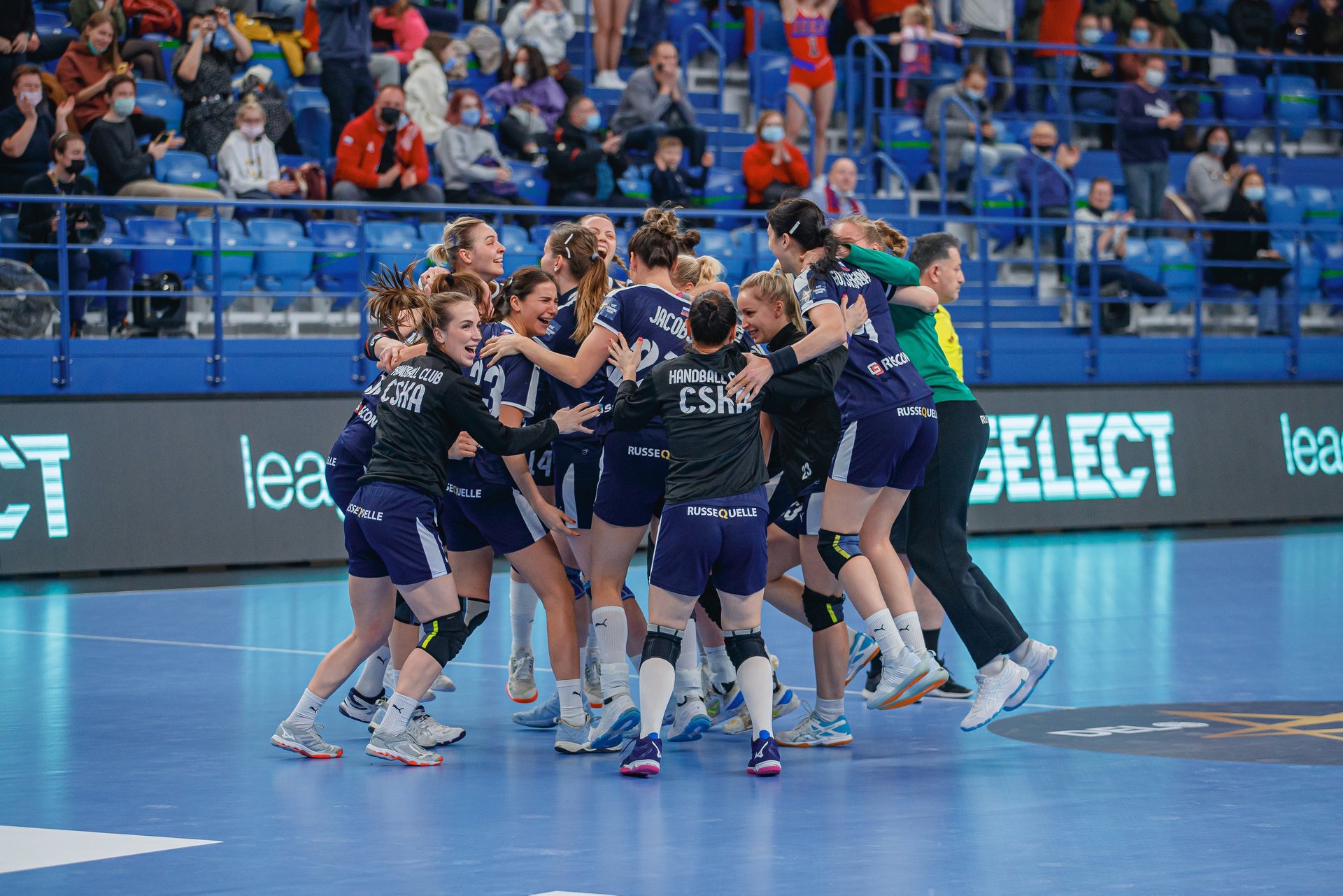 This weekend, the four tickets to Budapest were decided as the quarter-finals in the DELO EHF Champions League 2020/21 came to an end, here's how it went down.
It took four years of hard work and careful planning, but Brest Bretagne Handball finally sealed their first-ever DELO EHF FINAL4 berth.
The French side confirmed their domination of Metz Handball with a 60:50 aggregate win after the deadlock could not be broken in the second leg, which ended in a 26:26 draw.
METZ – BREST: 26-26 (14-17)
METZ: Sako (l.), Eckesrle (l.), Gautschi, Micijevic (7), N'Gouan (3), Nocandy (4), Houette (4), Bont (1), Stanko (2), O. Kanor, Burgaard (2), L. Kanor, Sajka, Luciano (2), Broch, Perederiy (1). 
BREST:Toft (l.), Quiniou (l.), Mauny, Toublanc (1), Tissier, Gros (4), Gulldén (2), Lassource (4), Lagattu, Fofana (1), Catani, Pop-Lazic (3 ), Foppa (6), Jaukovic (5), Loseth, Jarrige. 
For the second time ever in the DELO EHF Champions League's history, a team qualified for the DELO EHF FINAL4 without dropping a game.
Repeating their performance from two seasons ago, Györ is through to the business end of the competition in Budapest, after securing their 12th win of the season, 24:21, against Buducnost, in the second leg of the quarter-finals.
Györi Audi ETO KC vs Buducnost 24:21 (10:11)
First leg: 30:19. Aggregate: 54:40
Györi Audi ETO KC:
Gloze, Lejno (tri odbrane), Solberg (osam odbrana), Edwige, Ogonowski, Bratset-Dale 3, Hansen, Gorbic 3 (3), Czseko, Oftedal, Amorim-Taleska 4, Kristiansen 4 (1), Lukacz 1, Fodor 4, Nze-Minko 1, Faluvegi 4.
 BUDUCNOST: Atingre (3 saves), Arenhart (8 saves), Radicevic 7 (4), Dzaferovic 1, A. Marsenic, Brnovic 1, Pavicevic 2, Pino 3, Maslova 2, Ramusovic, Mehmedovic 5 (1), Kadovic, Vukcevic.
In 2019, Vipers Kristiansand made their debut at the DELO EHF FINAL4, and now they have reached that stage for the second time in a row.
Following a 34:27 win on Saturday, the Norwegian side had the upper hand and although the second leg was much more balanced, a 23:23 draw saw Vipers through.
Rostov-Don vs Vipers Kristiansand 23:23 (11:12)
Rostov-Don: Kalinina 10 saves, Gabisova – Tazhenova 1, Krpez-Slezak 2, Lagerquist 2, Sen 2, Bobrovnikova 3, Managarova 3, Zaadi 10
Vipers Kristiansand: Lunde 14 saves, Pedersen – Dahl 1, Arntzen 2, Knedlikova 3, Reistad 3, Tomac 4, Loke 5, Mork 5
Although Rostov-Don was eliminated by Vipers Kristiansand earlier today, Russia will still be represented by a team in the DELO EHF FINAL4.
Following a five-goal defeat at CSM last week, CSKA needed a strong comeback on home court, and the Moscow-based side managed it, as they won 24:19 and went through on away goals rule. CSKA has accomplished the impressive feat of making the DELO EHF FINAL4 in their debut season in the continental top flight.
CSKA  vs CSM Bucuresti 24:19 (12:11)
First leg: 27:32. Aggregate: 51:51
CSKA: Masson 12 saves, Sedoykina – Gorshenina 1, Skorobogatchenko 2, Heindahl 2, Ilina 2, Vedekhina 2, Gorshkova 2, Dmitrieva 6, Ristovska 7
CSM Bucuresti: Grubisic 12 saves, Dedu – Moisa 1, Pintea 1, Lazovic 1, Cvijic 1, Dembele Pavlovic 2, Omoregie 4, Neagu 9
DELO EHF FINAL4 2021 Draw that will take place Tuesday 13 April at 17:30 (CEST).