Experienced Spanish coach Manolo Cadenas leads Polish vice-champions Orlen Wisla Plock in third season. Former legendary coach of BM Ademar Leon (1995-2007) wants to make something similar with the second best Polish squad and he has "free hands" to make it as good as possible. Handball-Planet.com talked with him in Zagreb before the match against Croatian champions at VELUX EHF Champions League.
Manolo, are you happy in Poland?
– I am very happy in Poland. I came there as a 58 years old man, but me and my wife, we are both happy.
Do you thought only five years ago  about going abroad, for example to Poland, to work as other TOP Spanish coaches who conquering Europe in this moment?
– Never. Our League was very strong with Ciudad Real, Barca, Portland San Antonio, Ademar Leon, Valladolid, CAI Zaragoza, it was amazing competition. Since financial problems began, I started to learn English and think about international career. A lot of coaches and players are abroad, but that is good experience for all of us. For me, it is a new life.
Would you like to come-back to some Spanish team. Do you think about that?
– It will be difficult, but I don't think about come-back. I am in very good era in Plock. We are improving, starting to be a very good team in Poland, but also in Europe. I am looking forward for my future in Poland.
You are in specific situation, both far away from trophies in Poland against Kielce and Europe. How to motivate people around you and set specific goals?
– The first goal is to be competitive. That means we want to win every single match. We have problems as Kielce is on very high sports level, but our disadvantage in comparation with them are also referees. Of course, they were better than us in some matches, although they have other kind of support. It's difficult, our budgets are different. They can sign any European TOP player of from Wisla, but we are trying to be better. We are trying to be competitive even with them.
MANOLO'S CAREER:
Naranco de Oviedo (1986-1989)

Club Handbol Cantàbria (1989- 1991)

Club Balonmano Valladolid (1991-1995)

Club Balonmano Ademar León (1995-2007)

Futbol Club Barcelona (2007 – 2009)

BM Granollers (2010-2012)

Orlen Wisla Plock (2013-)

Spain (2013-)
It was shocking to see fighting scene between Talant Dujshebaev and you during one of the derby matches…
– Both coaches were hot in the same moment. Blood was hot, but after match I congratulated him, even after that little fight. We gave a hug to eachother. It is forgotten. Both of us made mistake. We have to make better image for coaching profession.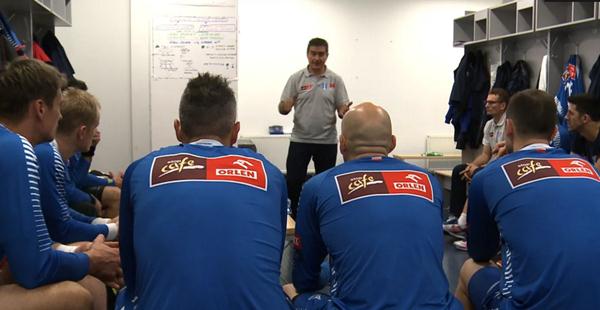 How you would describe Spanish coaching revolution with Rivera, Dujshebaev, Pastor, Ortega, Martin you…
– Spanish coaches are ready to lead the teams on the highest level as they have experience from strong ASOBAL. We were ready to learn from all foreign coaches and players who played in Spain for many years. The main characteristic of the Spanish coach is work on improvement of collective play. You can see that also on Spanish player worldwide. Our mentality helps us in that direction.
How do you see eachothers? Are you colleagues, rivals, how strong are relations between you?
– Our relations are good. Valero Rivera and Talant Dujshebaev won all the major trophies, others working in a little less ambitious teams, but in general, level of Spanish coaches are very high.
What is biggest difference between Spanish and, for example, Nordic coaches?
– Spanish league was a hell. We learned a lot from foreigners. We are giving a lot on tactics, maybe more than Scandinavians.
Do you like new system in EHF Champions League?
– It is early to say. Let's see the first half of the season and then we can make some clear opinion.
You are targeting fifth place in the Group?
– Fifth or sixth. Group is very strong.
Who is the biggest favorite to win the VELUX EHF Champions League?
– It is difficult to say, but look Paris with Karabatić and Hansen. They have a lot of options.
How far away is Wisla from Cologne?
– Vardar was close last year to play in Cologne. They had good matches against Kielce, and before that, we had good matches against them. We will try, our team is improving, we have great potential, we have to develop all aspects. We beat Barca, Veszprem, Flensburg in EHF CL matches, why not?
Spain needs medal at the Olympic Games.
– Of course, that is biggest goal for all the teams.
Who can beat France, it looks that you are closer?
– I meet them in two occasions in Denmark and Qatar, and I lost both semi-finals. It is extremely difficult – concludes Manolo Cadenas.