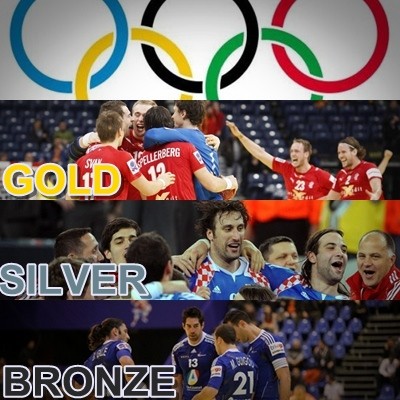 Always before the biggest Handball Tournaments, Handball-Planet.com making prognosis of the favourites. Our team of journalist made it also before the Olympic Games in London.
"Handball rule" that the European champion in the year of Olympic Games never takes gold at Olympic tournament seems to be broken. For Handball-Planet.com, Denmark is the biggest favourite to win the tournament and take gold medal. "Handball Guru", Ulrik Wilbek has fantastic mix of young and experienced players, well-known "scandi-system" and experience of OG 2008 in Beijing, where also Danes came as the European champion. Hansen, Landin, Lauge, Markussen, fantastic wings and defense players are able to repeat EHF EURO 2012 from Serbia.
Second biggest favourite is Croatia. Slavko Goluža needs time to improve himself, but also to assure the players to believe in him. Even this could be a problem for Croatia, bunch of players know who to play Olympic tournament. Venio Losert has two Olympic Gold medals from Atlanta and Athens, but also "Olympionics" are Balic, Lackovic, Vori, Vukovic, etc.
Third medal winner could be France. After disaster in Serbia, guys of Claude Onesta are highly motivated to show that their time didn't past. Bad club's season for majority of the players, without "fresh blood" in some younger guys as Accambray, who will start as substitute, could be a serious problem for legendary generation. Brothers Gille, Dinart and Fernandez are handball legends, but nobody can win all the time…
Fourth team could be Spain. Team of Valero Rivera showed class at two last big events in Sweden and Serbia. Spaniards don't have some "big star", but they are compact squad with "heavy and tall defense" and attack without a lot of mistakes.
From 5th to 8th place:
SERBIA
In the "Group of Death" someone has to "miss" ¼ Final, but also some team has to "pick up" France as a rival in that stage. Serbia could be that team as the fourth team from group B. Under that circumstances, "Eagles" will have less chances to secure semi-finals. This generation of Serbian players are on the TOP of their NT careers. With 100% on the court, they could be problem for anyone…
SWEDEN
Nothing more than qualification to TOP8 will be Swedish achievement in London. This team probably wouldn't survive Group B, but competing with Tunisia, Argentina and Great Britain, Andersson and Co. will qualify for quater-finals.
ICELAND
OG is nice opportunity that handball world says "Thanks Olafur". Iceland has average performance in the last two years. Palmarrson, Petersson, Stefansson and Sigurdsson could make some surprise, but you can never know…
TUNISIA
Interesting squad of Tunisia will probably beat Argentina in the match for "position 4" in Group A. Hmam, Tej, Jalouz and Bouganmi are able to do that. Tunisia won't be outsider in clashes with Iceland or Sweden…
From 9th to 12th place:
HUNGARY
Someone has to stay out of the TOP 8 from group B. Clashes will be amazing, but on the end, Hungary has the lowest rating of all the European teams in the Group.
ARGENTINA
Simonet and Co will play nice handball, but on their own limits…
KOREA
Even people who are very much involved in every day handball don't know what to expect from Korea. However, it would be a huge surprise that Asian champion beat some Europeans…
GREAT BRITAIN
Handball is happy that for the host-nation of the Olympic Tournaments have" exotic" handball nations as USA, Australia, China, GB.  GB has to play the best handball and promote our sports on the island…