EGYPT 2021
Hungary and Croatia dominated at the beginning of the main round!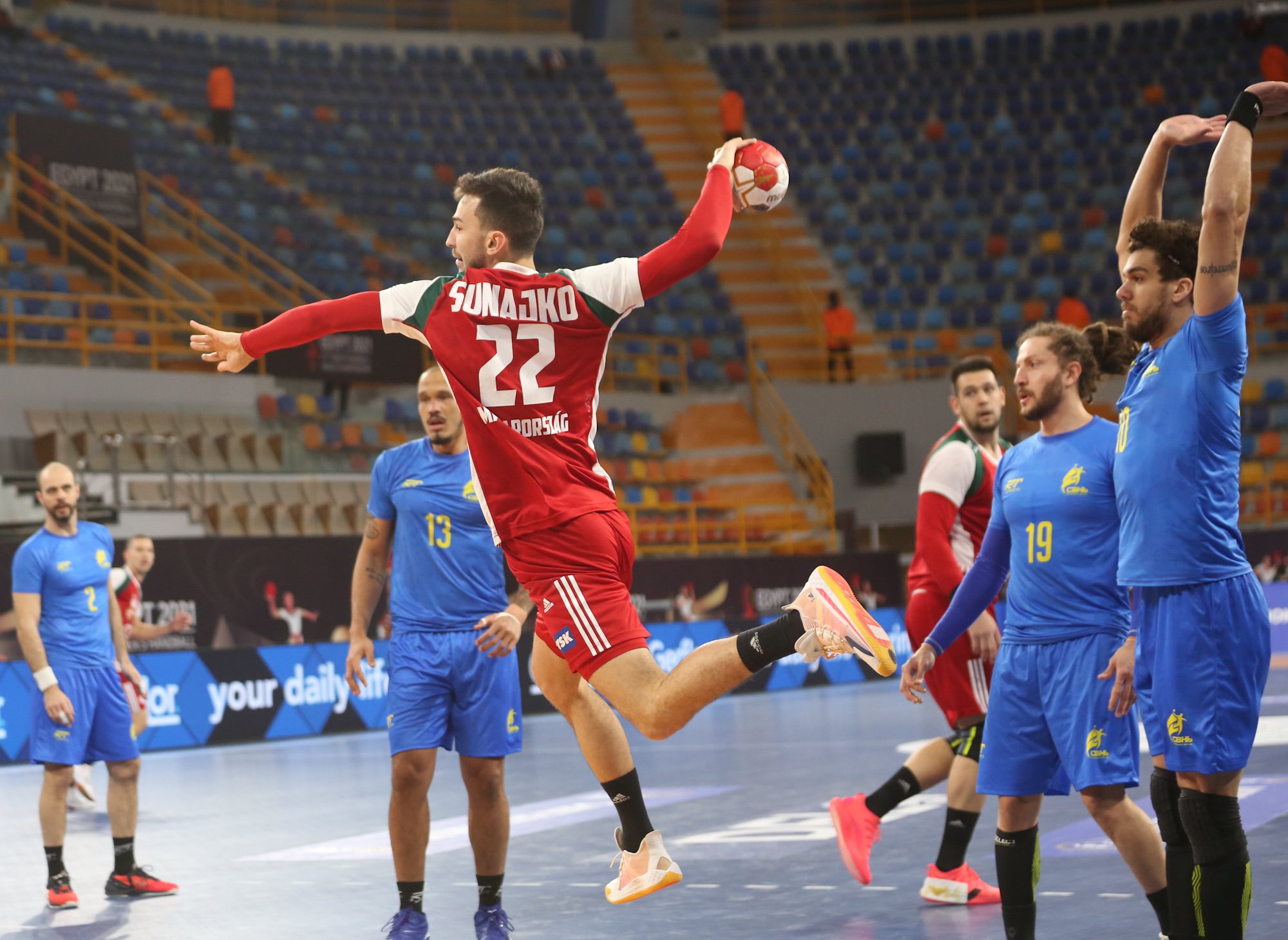 Hungary started their mission in Group I of the main round of the 27th IHF Men's Handball World Championship – Egypt 2021, by beating Brazil 29:23 (16:11), at New Capital Sports Hall, Cairo on Thursday.
The Hungarians dominated the game against foes Brazil in the first period with a 16:11 lead to ease their mission in the second round.
Despite the great effort by the Samba Dancers to make a comeback for the game, Hungary had the final word as they dominated the play and finished the game with a 29-23 victory over Brazil.
Hungary's goalkeeper Roland Mikler claimed the 'Player of the Match Award' after a superb performance during the game, helping his team to snatch the victory.
Hungary are in the driving seat of Group I with 6 points, while Brazil remains fifth in the ranking with only one point gained from the preliminary round.
The Hungarians will face a tough mission against Poland in the second game of Group I games on Saturday, while Brazil will take on topflight Germany on the same day.
Hungary – Brazil 29-23 (16-11)
Hungary: Bence Banhidi 5, Richard Bodo 4, Dominik Mathe 4, Stefan Sunajko 4, Peter Hornyak 3, Mate Lekai 3, Miklos Rosta 2, Zoltan Szita 2, Gabor Ancsin 1, Adrian Sipos 1.
Brazil: Haniel Langaro 8, Fabio Chiuffa 4, Rogerio Moraes 3, Gustavo Rodrigues 3, Thiago Ponciano 2, Rudolph Hackbarth 2, Joao Silva 1.
Bahrain needed five minutes to score their first goal, at which time Croatia were already three goals ahead which set the pace for the first period when ended 28:18 (13:8) in Croatia's favor.
The first period started very slow for the Asian nation, which needed keeper Mohamed Husain to pull off eight saves to keep his side in it going into the second period. The first 30 minutes ended 13:8 for the Croatians.
Croatia upped the ante in the second period, running away with the score and widening the gap to 10 goals. Zlatko Horvat did especially well, scoring eight goals.
The Player of the match was chosen as Croatia's Marin Sego, the keeper who made a number 12 saves, forwarding his side's cause.
Croatia will face Argentina next, while Bahrain will take on Qatar in two days' time.
Croatia – Bahrain 28-18 (13-8)
Croatia: Zlatko Horvat 8, Marino Maric 4, Ivan Martinovic 4, David Mandic 3, Marko Mamic 2, Ivan Cupic 2, Manuel Strlek 1, Josip Sarac 1, Halil Jaganjac 1, Luka Sebetic 1, Domagoj Duvnjak 1.
Bahrain: Husain Alsayyad 6, Mohamed Ahmed 5, Mahdi Saad 3, Mohamed Merza 1, Jasim Alsalatna 1, Ahmed Fadhul 1, Ali Merza 1.
Earlier today, Poland had easy task against Uruguay, while Argentina NT did the great job against Japan.
Uruguay – Poland 16-30 (9-14)
Uruguay: Maximo Esteban Cancio 6, Rodrigo Javier Botejara 2, Christian David Rostagno 2, Bruno Valentin Mendez 1, Federico Rubbo Rodriguez 1, Diego Morandeira 1, Felipe Alfonso Gonzalez 1, Maximiliano De Agrela 1, Gabriel Chaparro Almada 1.
Poland: Arkadiusz Moryto 8, Szymon Sicko 5, Jan Czuwara 4, Kacper Adamski 3, Patryk Walczak 3, Michal Daszek 2, Maciej Majdzinski 1, Tomasz Gebala 1, Dawid Dawydzik 1, Maciej Pilitowski 1, Michal Olejniczak 1.
Japan – Argentina 24-28 (13-17)
Japan: Tatsuki Yoshino 6, Hiroki Motoki 5, Shuichi Yoshida 4, Yuto Agarie 3, Remi Anri Doi 2, Rennosuke Tokuda 2, Kotaro Mizumachi 1, Jin Watanabe 1.
Argentina: Federico Pizarro 10, Diego Esteban Simonet 5, Lucas Dario Moscariello 5, Santiago Baronetto 4, Pablo Ariel Simonet 2, Ignacio Pizarro 1, Pablo Vainstein 1.