Hungary beat Serbia 26:25 after +8…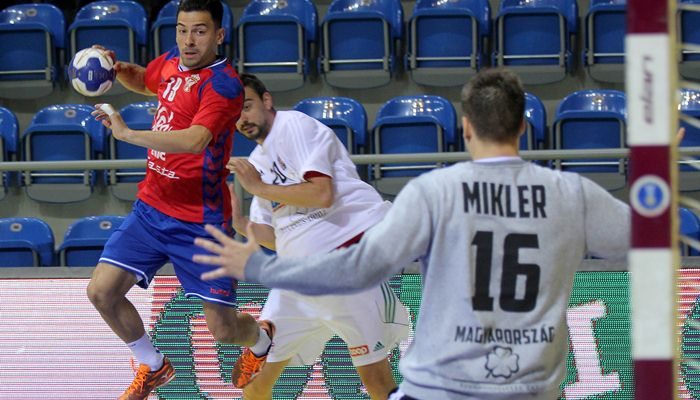 Hungary beat Serbia 26:25 (13:8) in the first away match of the Play Off for the World Championship 2017 in France. The team led by Spanish and Veszprem coach Xavi Sabate was 8 goals up in 37th minute (18:10), but Serb managed to come back to the match by fantastic Petar Nenadic who netted 10 goals. for 10:1 series – 20:19.
However, Ivancsik and Co. managed to prevent disasterous finish and turnover result at the end for a big chances before second match in Veszprem next Wednesday.
SERBIA – HUNGARY 25:26 (8:13)
Kraljevo
Spectators – 800
SERBIA: Arsić four saves, Vejin, Šešum 3, Marjanović, Djukić 2, Nenadić 10(5), Ilić 4, Rnić, Beljanski, Mitrović, Zelenović 2, Stanković 1, Marsenić 2, Stanković S 1, Mladenović, Marjanac
HUNGARY: Balogh, Ilyes 1, Schuch, Csaszar 2, Ivancsik D 5(2), Ivancsik T, Fazekas, Mikler 12 saves, Nagy K 3, Nagy Laszlo 5(1), Gyilas 1, Zubai 1, Bahnidi 1, Ancsin 3, Bodo, Lekai 4
RESULTS: 0:4 (6.) 2:6 (11.) 5:7 (17.) 6:8 (23.) 7:9 (26.) 8:11 (29.) 10:18 (38.) 20:19 (48.) 22:22 (53.) 24:26 (59.)