Hungary beat Slovenia, Iceland outplay Portugal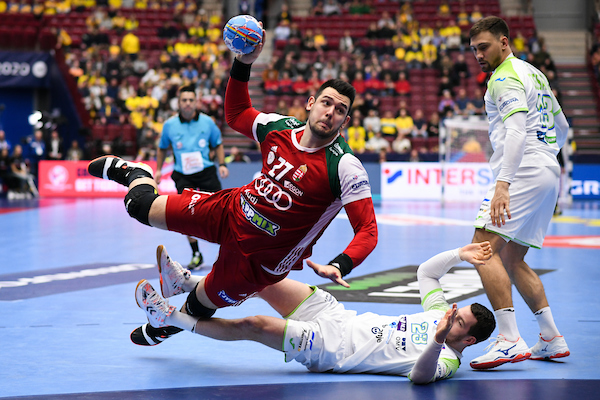 Hungary and Iceland have stayed in the race for semi-final at the Men's EHF EURO 2020. Icelanders beat Portugal 28:25 (12:14) in the clash in which the key role had back-line player Janus Smarason who netted eight goals. Portuguese team wasn't on the energy level from the previous match with Sweden.
That was also the case of Slovenia, who lost the first match at EHF EURO 2020 after four wins. Hungary beat Slovenia 29:28 with Bence Banhidi as unstoppable. Line-player netted nine goals, while young left back Patrik Ligetvari had some important goals in the finish, just like Roland Mikler, who saved few important balls in second half.
Slovenia – Hungary 28-29 (16-13)
Slovenia: Jure Dolenec 8, Borut Mackovsek 5, Blaz Blagotinsek 4, Miha Zarabec 4, Blaz Janc 3, Nejc Cehte 3, Nik Henigman 1.
Hungary: Bence Banhidi 9, Patrik Ligetvari 6, Matyas Gyori 3, Bence Nagy 3, Miklos Rosta 2, Dominik Mathe 2, Zsolt Balogh 2, Zoltan Szita 1, Bendeguz Boka 1.
Portugal – Iceland 25-28 (12-14)
Portugal: Miguel Martins 4, Antonio Areia 4, Fabio Magalhaes 3, Alexandre Cavalcanti 3, Joao Ferraz 2, Diogo Branquinho 2, Luis Frade 2, Belone Moreira 1, Rui Silva 1, Fabio Antunes 1, Daymaro Salina 1, Alexis Borges 1.
Iceland: Janus Smarason 8, Aron Palmarsson 5, Alexander Petersson 5, Gudjon Sigurdsson 5, Bjarki Mar Elisson 2, Arnor Gunnarsson 1, Sigvaldi Gudjonsson 1, Olafur Gudmundsson 1.
STANDING:
Norway 4
Slovenia 4
Hungary 4
Portugal 2
Iceland 2
Sweden 0
Mandatory Credit © Nebojsa Tejic / kolektiff