HUNGARY: Pick Szeged 9 of 9!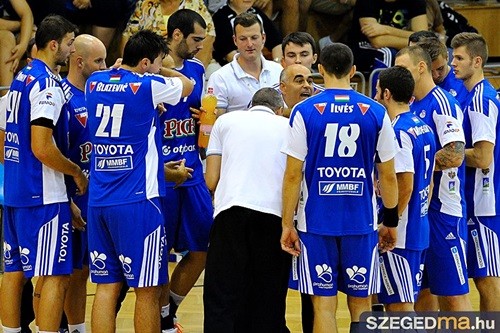 In round 9 of the Hungarian League Pick Szeged achieved their 9th victory this time against Gyöngyös, however it was a much more difficult one than previously anticipated. The guests immediately took the initiative and quickly reached a 3-goal lead (3rd minute 1-4). The goals kept on coming from both sides until the 10th minute when Ilyés equalized for Pick (7-7). Goals by Zubai, Kekezovic and Larholm changed the result in Pick's favour (14th minute 10-7) but the home team were unable to widen the gap further. Acceptable performance in attack (especially by Larholm and Zubai) but very poor defending on the part of Pick resulted in a huge amount of goals by the end of the first half (19-16).
After 12 minutes into the second half it seemed that Pick would win the match easily and the spectators could just lean back and enjoy the show. Highly effective play by Mindegia (both goals and assists) put the difference to 9 goals (42th minute 27-18). But it only took the guests five minutes to ruin the day: 4 quick goals put them back into the match (47th minute 28-23). Pick's defense was still not working well and as a result they conceived the highest number of goals this season. Luckily for the home team Kekezovic and Mindegia were always there to score so the victory was never in any real danger. But in two weeks' time Pick Szeged need to do much better, especially in defense when they face arch rivals Veszprém.
Pick Szeged-Gyöngyös 36:30 (19:16)
Best scorers: Larholm 8, Zubai-Mindegia 5 / Frey 8, Varsandán 5
Text: Péter Butty