ITALY: SSV Bozen are the only on 100% in the biggest European league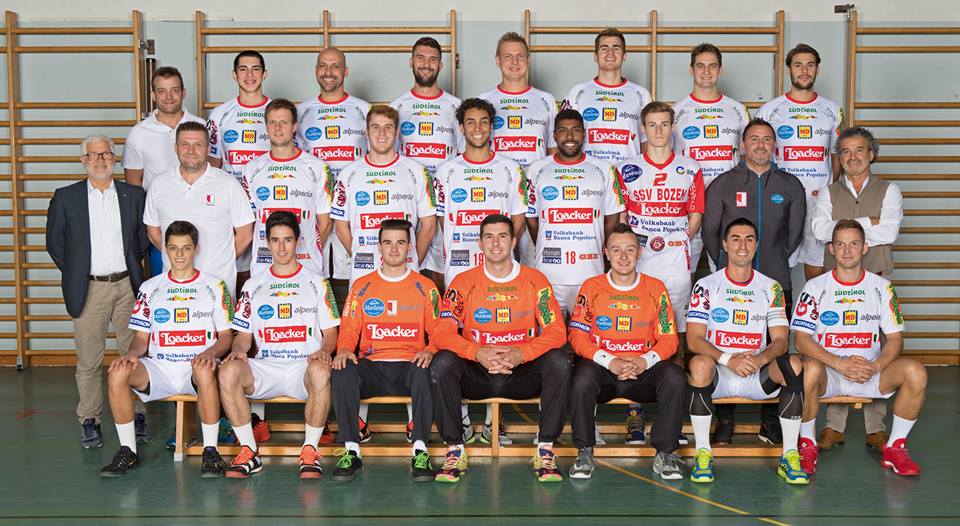 European league with the most clubs in elite competition – Italy (27), still going on with the system of three regional groups with nine teams.
After eight round of matches, the only team who is still on 100% is Bozen.
Here is the current standing on all three groups.
| | | | | | | | | |
| --- | --- | --- | --- | --- | --- | --- | --- | --- |
| 1. | Bozen | 7 | 7 | 0 | 0 | 214:152 | 14 | |
| 2. | Trieste | 8 | 5 | 1 | 2 | 186:168 | 11 | |
| 3. | Pressano | 8 | 4 | 2 | 2 | 178:178 | 10 | |
| 4. | Meran | 8 | 4 | 1 | 3 | 201:195 | 9 | |
| 5. | Cassano | 8 | 4 | 1 | 3 | 174:180 | 9 | |
| 6. | Brixen | 8 | 3 | 2 | 3 | 209:202 | 8 | |
| 7. | Eppan | 7 | 3 | 0 | 4 | 162:169 | 6 | |
| 8. | Malo | 8 | 3 | 0 | 5 | 191:211 | 6 | |
| 9. | Molteno | 8 | 2 | 0 | 6 | 183:205 | 4 | |
| 10. | Mezzocorona | 8 | 0 | 1 | 7 | 164:202 | 1 | |
| # | Group A | MP | W | D | L | G | Pts | |
| 1. | Bologna | 7 | 4 | 2 | 1 | 212:178 | 10 | |
| 2. | Cingoli | 7 | 5 | 0 | 2 | 216:190 | 10 | |
| 3. | Cologne | 7 | 4 | 1 | 2 | 177:163 | 9 | |
| 4. | Padova | 7 | 4 | 1 | 2 | 167:159 | 9 | |
| 5. | Teramo | 7 | 3 | 2 | 2 | 159:157 | 8 | |
| 6. | Tavarnelle | 7 | 2 | 3 | 2 | 192:186 | 7 | |
| 7. | Modena | 7 | 3 | 1 | 3 | 167:166 | 7 | |
| 8. | Carpi | 8 | 1 | 0 | 7 | 211:246 | 2 | |
| 9. | Romagna | 7 | 1 | 0 | 6 | 158:214 | 2 | |
| # | Group C | MP | W | D | L | G | Pts | |
| 1. | Fasano | 8 | 6 | 2 | 0 | 269:202 | 14 | |
| 2. | Conversano | 7 | 6 | 1 | 0 | 208:144 | 13 | |
| 3. | Albatro | 7 | 4 | 1 | 2 | 191:169 | 9 | |
| 4. | Noci | 7 | 4 | 0 | 3 | 201:186 | 8 | |
| 5. | Gaeta | 7 | 4 | 0 | 3 | 173:187 | 8 | |
| 6. | Fondi | 7 | 3 | 0 | 4 | 202:201 | 6 | |
| 7. | Valentino Ferrara | 7 | 3 | 0 | 4 | 211:213 | 6 | |
| 8. | Benevento | 7 | 0 | 0 | 7 | 164:210 | 0 | |
| 9. | Ragusa | 7 | 0 | 0 | 7 | 142:249 | 0 | --> |