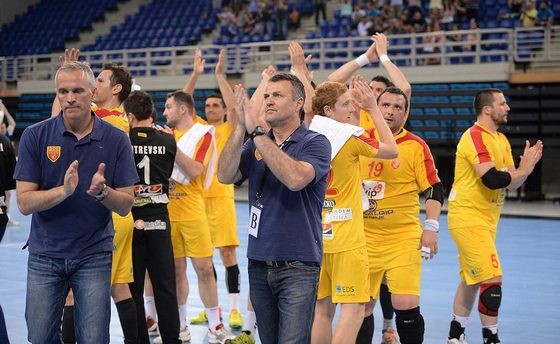 The national team coach of Macedonia, Ivica Obrvan, has made his decision on who will be representing Macedonia in Qatar. The biggest surprise in the chosen 18 is that the left wing of HC Metalurg, Goce Ojleski, is not taken in the squad, and instead Vlado Nedanovski will be given the chance, due to as Obrvan explained – better fitting his game play style.
GOALKEEPERS: Borko Ristovski, Petar Angelov, Nikola Mitrovski
LEFT WINGS: Dejan Manaskov, Vlado Nedanovski.
RIGHT WINGS: Zlatko Mojsoski, Goce Georgievski
PIVOTS: Vančo Dimovski, Stole Stoilov, Nikola Markoski
RIGHT BACKS: Kire Lazarov, Renato Vugrinec
LEFT BACKS: Filip Lazarov, Naumče Mojsovski
MID BACKS: Filip Mirkulovski, Nemanja Pribak.
DEFENCE SPECIALISTS: Aco Jonoski, Velko Markoski.
The World Championship 2015 in Qatar beings on 15th of January.