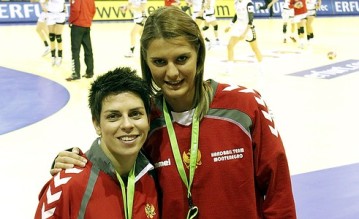 It was interesting on the playing court, where Montenegro beat Romania 23:20 in Group D in Vrsac, but also after at the PRESS conference, where Montenegrin star with Serbian origins, who curently playing in Romanian TOP team, Katarina Bulatović talks about the match, but also behaviour of Romanian head coach, Gheorghe Tadici after the final whistle:
– Romania played the best match so far. On the other side, we started very bad, but we knew how to react. Of course we are very happy, because we took all four points with us to Novi Sad. Now, we can play without pressure. I want to tell to mister Tadici that fair-play is when you shake hand with your rivals after the match – said angry Katarina.
Tadici obviosly decided to solve this mistake quickly:
– When we are speaking about fair-play, I want to congratulate to the rival. They played with bigger wish, they knew how and what to make on the court in all the situations. I want to congratulate also to my team. We fought well, but in different conditions, because we have played in two different half-times against many factors. Thanks to our fans. They were fantastic and I apologise because we didn't give them more. I hope that we will play much better in Novi Sad, because we can do it – concluded Tadici.
source: vijesti.me