Kazan 2018: Greece close to Beach Handball Olymp!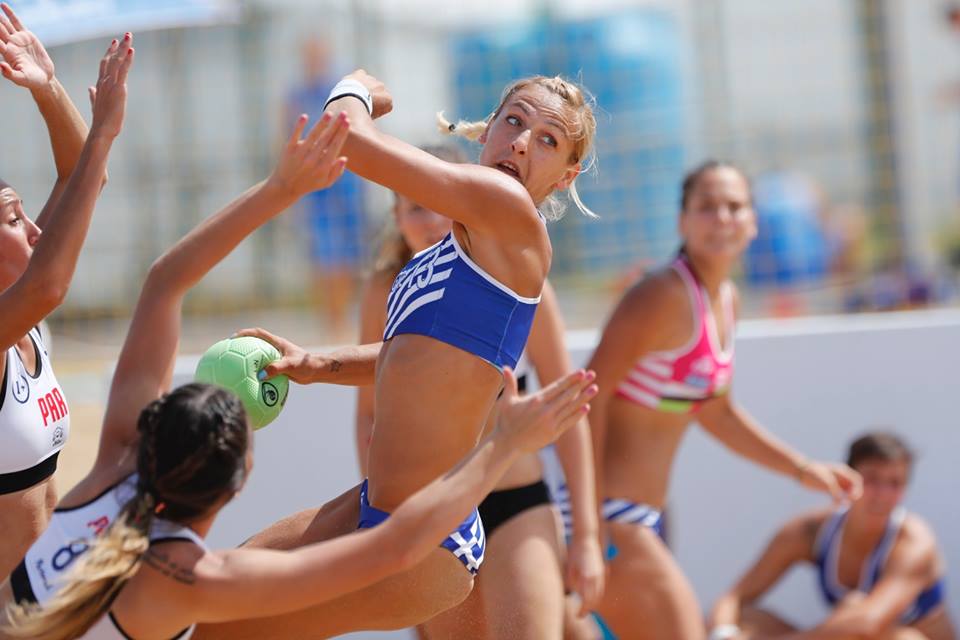 Last global Beach Handball championship before it's Olympic debut on Youth Olympic games in Buenos Aires in October brought on Saturday fantastic day full of attractive and exciting matches. Morning session started with quarterfinals in female competition marked with surprising defeat of host Russian team against debutant Greece (2:1 (20:25; 22:18; 12:10). Before that match, Russian male team and it's supporters suffered the same destiny – to lose in quarterfinal: Hungary – Russia 2:0 (21:20; 21:14).
Greece team came to Kazan as debutant but with fantastic play and spirit they were able to win even defending champions Espana in semifinal: ESP – GRE 1:2 (18:14; 16:18; 2:6). Opponent in last match in female competition will be Norway which won Poland in QF (2:1) and Brasil in SF (2:0).
In the male competition, we saw spectacular QF between Brasil and Spain: BRA – ESP 2:1 (25:18; 21:22; 16:14). Later, Brasil won it's SF against surprising Sweden by 2:0 (17:14; 20:12). Tomorrow finals at 18h (local time, UTC + 3) Brasil will play again, as it was 2 years ago on previous WCh, with Croatia. Croatian team which is title defender reach finals with authority in semifinal against Hungary (2:0 (26:18; 28:22)), but lost a lot of energy in QF with powerfull Danish team: DEN – CRO 1:2 (22:25, 24:17, 8:6).
On Sunday morning will bee played placement matches from 5th to 16th place. Afternoon, medal matches will start with ESP – BRA in female competition for bronze (15h local time), followed with 3rd place final in male competition (16h HUN – SWE) and then crescendo: female final GRE – NOR (17h) and CRO – BRA (18h).
All matches you can follow in live stream via one of two platforms: IHF.info or HandballRussia2018.com
X.Q
PHOTO: Jozo Cabraja