Kielce began with recovery by convincing win in Zabrze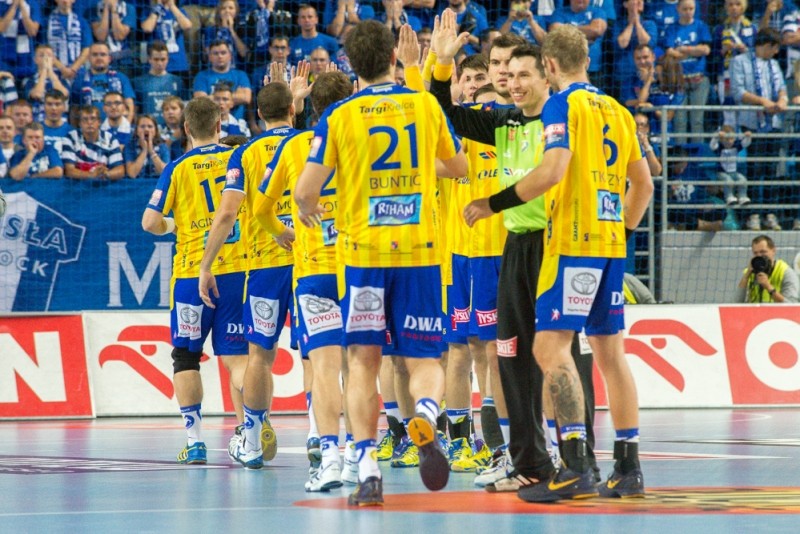 Recently, after a series of poor matches, a lot of rumors and speculations about the Kielce team have appeared in Polish media. The game against Zabrze (5th place in the Polish League table) was a good chance to prove it wrong and to start recovering – 35:20. Vive began very well – good defence created opportunities for waging counter attacks and the player who made a superb use of them was Manuel Štrlek. Kielce gained a considerable advantage although it decreased a bit when Górnik played in a powerplay. This situation turned out to be temporary and the goal distance became bigger and bigger. The goalkeepers also did their jobs. Well playing Szmal left the court for a moment after being hit in his face and his replacement Venio Losert saved a penalty. The crowning of the first half was Aginagalde's penalty shot which made the result 20:10.
The beginning of the second half did not vary from the previous part, Kielce consecutively hit Zabrze's net. However, during couple minutes they missed 3 or so pretty good chances to score. In 40. minute an unusual situation happened as Thorir Olafsson scored an own goal – he was trying to catch the ball but it bounced off his hand in such a way that it lobbed Szmal and it landed in his goal. Even though the result did not give much hope for Zabrze, neither team would let go so there were a lot of cautions and 2-minute suspensions given – Piotr Grabarczyk for example ended up with red card after his third suspension. It did not change anything though. What is more, in the second half only, Kielce goalkeepers saved 3 penalty shots. Vive's victory was not endangered almost from the beginning and the style may give hope that the crisis is being dealt with. The top scorer for Kielce was Julen Aginagalde (6).
STANDINGS:
| | | | | | | | |
| --- | --- | --- | --- | --- | --- | --- | --- |
| 1 | Vive Targi Kielce | 12 | 12 | 0 | 0 | 429:302 | 24 |
| 2 | Orlen Wisła Płock | 12 | 10 | 1 | 1 | 391:310 | 21 |
| 3 | Gaz-System Pogoń Szczecin | 12 | 9 | 1 | 2 | 394:346 | 19 |
| 4 | KS Azoty Puławy | 12 | 6 | 2 | 4 | 376:374 | 14 |
| 5 | Górnik Zabrze | 12 | 6 | 1 | 5 | 368:345 | 13 |
| 6 | SPR Chrobry Głogów | 12 | 6 | 0 | 6 | 339:356 | 12 |
| 7 | PGE Stal Mielec | 12 | 4 | 2 | 6 | 369:376 | 10 |
| 8 | MMTS Kwidzyn | 12 | 4 | 1 | 7 | 344:366 | 9 |
| 9 | Zagłębie Lubin | 12 | 4 | 1 | 7 | 351:405 | 9 |
| 10 | Gwardia Opole | 12 | 2 | 1 | 9 | 316:373 | 5 |
| 11 | KPR Legionowo | 12 | 2 | 0 | 10 | 311:371 | 4 |
| 12 | Piotrkowianin Piotrków Trybunalski | 12 | 1 | 2 | 9 | 348:412 | 4 |
TEXT: MARTYINA USNARSKA