EHF
Kielce ended Barca's miraculous streak!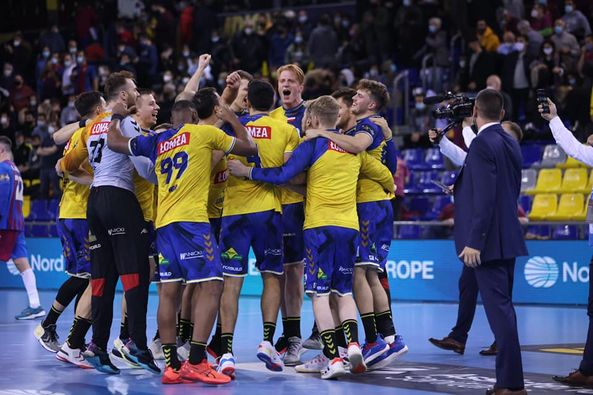 The Łomża Vive Kielce team made a miraculous success, breaking Barca's incredible series of home victories that had been dragging on since December 2015! It was then that the Catalan team was defeated by none other than Vive Kielce! After six years, the Polish Champions returned to Palau Blaugrana in a great style, defeating the hosts 32:30 (19:16), keeping their nerves at the end, and showing handball at the highest level.
Polish champions ruined the great celebration for the European champions – it's was their 500th European game!
The man of the match was Andreas Wolf with 14 saves. Lomza Vive Kielce is now on top of Group B with six straight wins, after the initial defeat in Bucharest.
Barcelona – Vive Kielce 30-32 (16-19)
Barcelona: Dika Mem 7, Timothey N´Guessan 7, Ludovic Fabregas 5, Domen Makuc 3, Aleix Gomez 3, Aitor Arino 2, Luka Cindric 1, Angel Fernandez 1, Haniel Langaro 1.
Vive Kielce: Arkadiusz Moryto 7, Dylan Nahi 6, Alex Dujshebaev 4, Szymon Sicko 4, Branko Vujovic 3, Artsem Karalek 3, Nicolas Tournat 2, Uladzislau Kulesh 2, Igor Karacic 1.
PSG locked their goal in the first half and made an easy victory against FC Porto.
PSG – Porto 33-19 (18-4)
PSG: Kamil Syprzak 8, Nedim Remili 6, Mikkel Hansen 5, Mathieu Grebille 3, Nikola Karabatic 3, Luc Steins 2, Adama Keita 1, Benoit Kounkoud 1, Sadou Ntanzi 1, Dainis Kristopans 1, Elohim Prandi 1.
Porto: Victor Iturriza 5, Ivan Sliskovic 4, Daymaro Salina 3, Leonel Fernandes 2, Pedro Cruz 2, Djibril Mbengue 2, Pedro Veitia 1.
GROUP A
| | | | |
| --- | --- | --- | --- |
| 1 | Montpellier | 7 | 11 |
| 2 | Kiel | 7 | 11 |
| 3 | Szeged | 7 | 10 |
| 4 | Aalborg | 7 | 8 |
| 5 | Elverum | 7 | 8 |
| 6 | Vardar 1961 | 7 | 5 |
| 7 | PPD Zagreb | 7 | 2 |
| 8 | Meshkov Brest | 7 | 1 |
GROUP B
| | | | |
| --- | --- | --- | --- |
| 1 | Vive Kielce | 7 | 12 |
| 2 | Barcelona | 7 | 9 |
| 3 | Telekom Veszprém | 7 | 8 |
| 4 | PSG | 7 | 7 |
| 5 | Engine | 7 | 6 |
| 6 | Flensburg-H | 7 | 5 |
| 7 | Postage | 7 | 5 |
| 8 | Dinamo Bucharest | 7 | 4 |