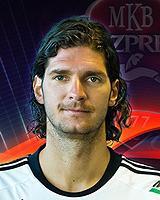 Before the official start of the VELUX EHF Champions League match between MKB Veszprem and THW Kiel, Hungarian star and right back of home team, Laszlo Nagy will receive the trophy for the "World's Best Player 2011" in the official contest of Handball-Planet.com, one of the biggest specialized handball website worldwide. Over 6500 handball fans worldwide voted that the one of the biggest handball stars in the last decade, ex-F.C Barcelona player was the best in 2011 ahead of Danish super-star, Mikkel Hansen and five other nominated players.
This will be a nice opportunity that full "Veszprem Arena" with over 5000 fans greet the national handball hero with standing ovation.
Handball-Planet.com is launched in May 2010. With every day handball content, HP attract over 200.000 visitors per year.
NEWS FROM DECEMBER 2011 ABOUT THE WINNER…