"Lions" beat Melsungen for 21 goal ahead of Kiel!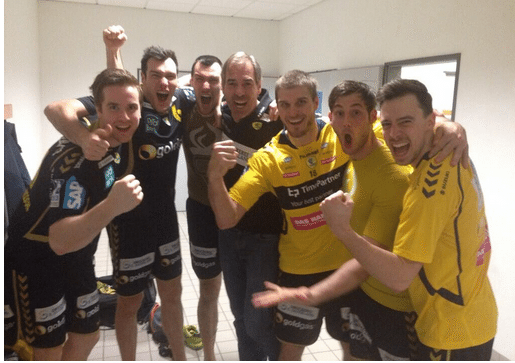 Rhein Neckar Lowen beat MT Melsungen 41:28 (21:12) in the penultimate match of the season and now team of Gudmundur Gudmundsson are 21 goals ahead of the only rival in the Championship race – THW Kiel. Kiel will play against TUS Lubbecke in away match and after that clash with Fuchse Berlin in the last match of the season, while "Lions" going to Gummersbach, where SCHWALBE Arena is already sold-out for the decisive match of the season in Germany.
Rhein-Neckar Löwen – MT Melsungen 41:28 (21:12)
Rhein-Neckar Löwen: Landin, Stojanovic  – Schmid (9), Gensheimer (9/5), Sesum, I. Guardiola, Manojlovic (2), Gorbok (2), Groetzki (5), G. Guardiola (2), Petersson (9), Ekdahl Du Rietz (2), Myrhol (1), Sigurmannsson.
MT Melsungen: Appelgren, Sandström  – Stenbäcken (1), Mansson (3), Sellin (6/3), Kubes (1), Fahlgren (5), Hildebrand, Danner, P. Müller (1), Allendorf (1/1), Vuckovic (1), M. Müller (8), Zufelde (1).
STANDINGS:
| | | | |
| --- | --- | --- | --- |
| 1. | Rhein-Neckar Löwen | 57:9 | +229 |
| 2. | THW Kiel | 55:9 | +208 |
| 3. | SG Flensburg-Handewitt | 50:14 | +159 |
| 4. | HSV Handball | 49:15 | +89 |
| 5. | Füchse Berlin | 46:18 | +86 |
| 6. | MT Melsungen | 38:28 | +8 |
| 7. | SC Magdeburg | 35:29 | +35 |
| 8. | TSV Hannover-Burgdorf | 31:33 | -62 |
| 9. | TBV Lemgo | 30:34 | -42 |
| 10. | TuS N-Lübbecke | 28:36 | -45 |
| 11. | HSG Wetzlar | 27:37 | -19 |
| 12. | VfL Gummersbach | 25:39 | -62 |
| 13. | TSV GWD Minden | 24:40 | -61 |
| 14. | FRISCH AUF! Göppingen | 23:41 | -21 |
| 15. | Bergischer HC | 20:44 | -73 |
| 16. | HBW Balingen-Weilstetten | 18:46 | -67 |
| 17. | ThSV Eisenach | 13:51 | -166 |
| 18. | TV Emsdetten | 9:55 | -196 |