LNH: Furious Montpellier, strong PSG, fantastic Cesson…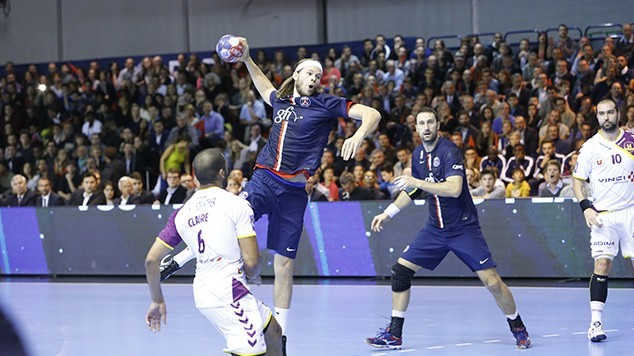 PSG, Montpellier and the biggest surprise od the early season, Cesson Rennes, continue the race in the French Championship. PSG Handball had no mercy for Aix 35:25, the former team of their current coach Zvonimir Serdarusic, brothers Karabatic, but also legendary French player who is wearing Aix's t-shirt Jerome Fernandez.
Mikkel Hansen netted 10 goals from 10 shots.
| | | | | | | | |
| --- | --- | --- | --- | --- | --- | --- | --- |
| 20:45 | St. Raphael | 25 – 34 | Montpellier | | | | |
| 20:00 | Aix | 25 – 35 | Paris SG | | | | |
| 20:00 | Creteil | 30 – 24 | Tremblay | | | | |
| 20:00 | Cesson Rennes | 27 – 23 | Ivry | | | | |
| 20:00 | Dunkerque | 34 – 27 | Nimes | | | | |
STANDINGS:
1.

Paris SG

6
6
0
0
205:158
12
2.

Montpellier

6
5
0
1
199:164
10
3.

Cesson Rennes

6
5
0
1
165:158
10
4.

St. Raphael

6
4
0
2
164:161
8
5.

Creteil

6
3
2
1
172:173
8
6.

Nimes

6
3
1
2
187:190
7
7.

Dunkerque

6
3
0
3
162:155
6
8.

Ivry

6
2
0
4
166:179
4
9.

Aix

6
1
2
3
175:193
4
10.

Toulouse

5
1
1
3
140:140
3
11.

Nantes

5
1
1
3
155:156
3
12.

Chambery Savoie

5
1
1
3
140:156
3
13.

Tremblay

6
1
0
5
143:158
2
14.

Chartres

5
0
0
5
119:151
0