EHF
Masters Handball World Cup 2023 "epic moment": Teams from all around the World, champions from Romania to Lithuania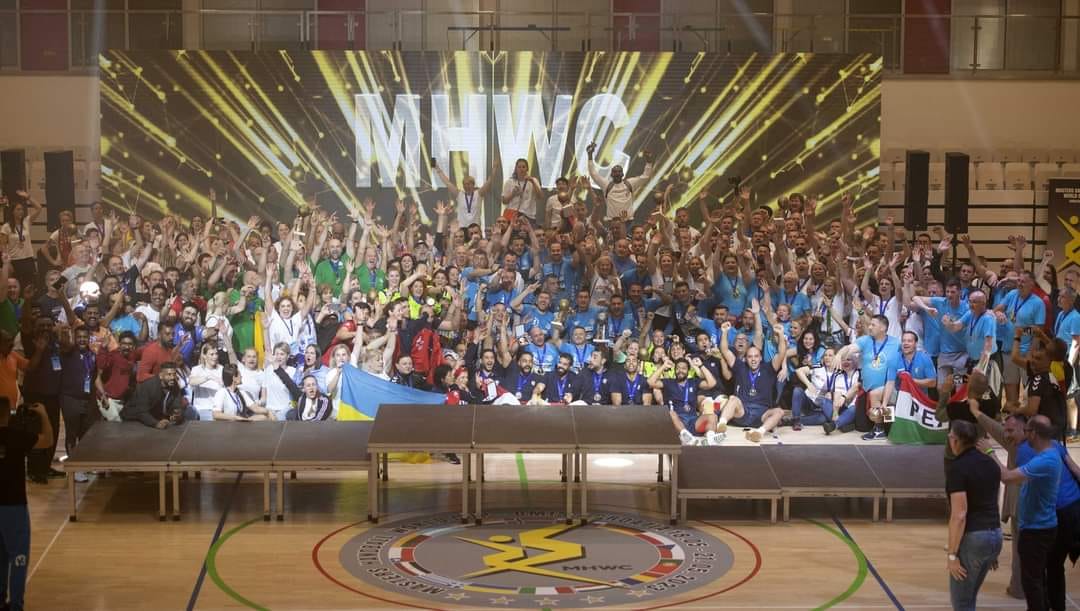 It was spectacular! The 6h Masters Handball World Cup 2023 gathered more than 1.500 ex-handball players from all over the World in two Croatian cities Omis and Makarska between May 18 and 21. In total 63 teams from 16 countries / four continents from Balkan, Middle Europe to Chile, India and Egypt, played in seven age categories to take the title od the Masters World Cup champions.
Trophies went to Romania, Slovakia, Poland and Lithuania.
FINALS
M 35+ HC Bucovina (ROM) – New Giza (EGY) 11:10 MVP: Kristijan Adominikaj (HC Bucovina)
M 40+ Masters Handball Slovakia (SVK) – Smarskai (LTU) 8:12 MVP: Modestas Bakaitis (Šmarškai)
M 45+  Masters Handball Slovakia (SVK) – HC Brno (CZE) 8:6 MVP: Mario Brezina (MH Slovakia)
M 50+ Masters Pabianice (POL) – PEAC PTKE (HUN) 11:3 MVP: Piotr Miler (Masters Pabianice)
W 35+ Slavia Praha (CZE) – Collected Team (POL) 9:10 MVP: Dorota Basta (Collected team)
W 40+ ZKA Bratislava (SVK) – All Stars (SVK) 3:11 MVP: Veronika Kristinova (All Stars Slovakia)
W 45+ Elite Nitra (SVK) – HBH Morava (CZE) 14:8 MVP: Veronica Heitmankova (Morava)
The next MHWC 2024 will take place on May 22-26 at the same place.
More infos on www.mhworldcup.com
SPECIAL AWARDS
Andras Golya (1946) MAFC
Dani Branzau (Alpha RO)
India manager Agil Viyu
Teams of Chile Individual
AWARDS
M50+ TOP scorer: Richard Klimczak (Pabianice) BEST goalie: Robert Jando (PEAC) MVP: Piotr Miler (Pabianice)
W45+ TOP scorer: Katarina Hanakovičova (Nitra) BEST goalie: Sonja Valentova (Nitra) MVP: Veronica Heitmankova (Morava)
M45+ TOP scorer: Peter Lužak (MH Slovakia) BEST goalie: Zdenek Havliček (Brno) MVP: Mario Brezina (MH Slovakia)
W40+ TOP scorer: Kristina Červenakova (All Stars Slovakia) BEST goalie: Zuzana Dvoranova (ZKA Bratislava) MVP: Veronika Kristinova (All Stars Slovakia)
M40+ TOP scorer: Marko Djordjevic (MH Slovakia) BEST goalie: Andrius Puškorius (Šmarškai) MVP: Modestas Bakaitis (Šmarškai)
W35+ TOP scorer: Katarina Wilk (Collected team) BEST goalie: Martina Sinkova (Slavia Praha) MVP: Dorota Basta (Collected team)
M35+ TOP scorer: Razvan Gavriloaia (HC Bucovina) BEST goalie: Amr Ahmed (NewGiza) MVP: Kristijan Adominikaj (HC Bucovina)
FINAL placement:
M50+ 1. Pabianice (Pol) 2. PEAC PTKE (HUN) 3. Alpha RO (ROM)
W45+ 1. Elite Nitra (SLK) 2. Morava (CZ) 3. Amazonok (HUN) M45+ 1. MH Slovakia 2. Brno (CZE) 3. Hana (CZE)
W40+ 1. All Stars Slovakia 2. ZKA Bratislava (SLK) 3. Bud HA (HUN)
M40+ 1. Šmarškai (LTU) 2. MH Slovakia (SLK) 3. PEAC Young Boys (HUN)
W35+ 1. Collected team (POL) 2. Slavis Praha (CZE) 3. KSC Hungary (HUN)
M35+ 1. HC Bucovina (ROM) 2. New Giza (Egypt) 3. Golden Boys Merasport (ROM)