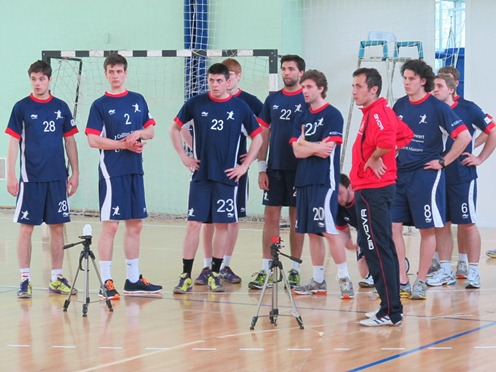 The British Olympic Association (BOA) has announced today the 14 male handball players that will represent Team GB at the London 2012 Olympic Games.
Handball made its Olympic debut in 1936, but has only been a regular fixture at the Games since 1972.  Team GB has taken the opportunity to use the home nation allocation to enter their first ever handball teams and, following the announcement two weeks ago of their female counterparts, both the men and women's squads are now selected to make their Olympic debuts in London.
The 14 athletes selected to Team GB today are (age, hometown):
Bob White (captain) (29, Milton Keynes, Bucks)
Jesper Parker (28, Gothenburg, Sweden)
John Pearce (24, Poole, Dorset)
Mark Hawkins (26, Horsham, Sussex)
Martin Hare (22, Tananger, Norway)
Ciaran Williams (24, Edenfield, Lancashire)
Chris Mohr (22, Dreieich, Germany)
Steven Larsson (31, Oslo, Norway)
Seb Edgar (21, Saint Peray, France)
Seb Prieto (25, Crowborough, Sussex)
Gawain Vincent (22, Marne, France)
Robin Garnham (25, Sunne, Sweden)
Dan McMillan (29, Sway, Hampshire)
Chris McDermott (23, Wirral, Merseyside)

In addition to the 14 athletes, the British Handball Association have also named 20-year-old Nicholas Satchwell as their reserve, as well as another four backroom staff led by head coach Dragan Djukic.
"It was the hardest decision in my life, because our players have invested the last six years of their lives in the GB programme, but the situation that we have a chance up to the quarter-final to change injured players, with any player from the long list, gave us the chance to reward the 15 players who invested the most over this period.
"In the end, the best 15 (14+1) are selected and now it is time for concentration and to add the final touches for the start of the Olympic Tournament and the opening game against World and Olympic Champions France."